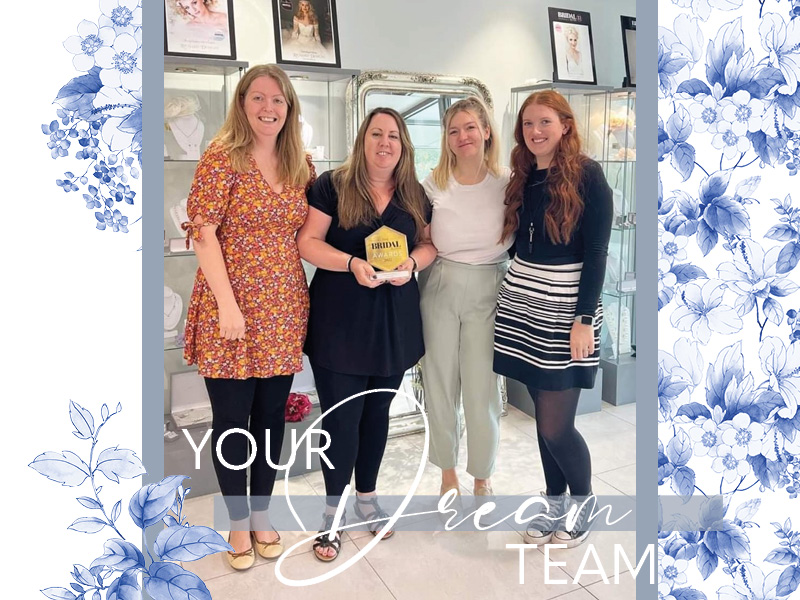 Award-Winning Customer Service
Customer service is the beating heart of Richard Designs. Our team work tirelessly to ensure that our customers feel their support and can rest assured that should they need a question answered or a problem resolved, there is a cheerful voice on the other end of the phone, ready to help. This, in turn, allows our stockists to pour their energy into supporting their customers in finding their dream wedding dresses and more.
With more than 55 years of experience at Richard Designs between them, our Customer Service team share a passion for all things bridal and for helping customers navigate their own businesses and find what works for them. As the first point of contact for customers, they are skilled communicators and effective collaborators which allows them to resolve any issues which may arise with minimal friction. Working closely with the technical support team, accounts, sales and marketing, our customer service team are always on hand with advice. Their love of bridal fashion also means that their product knowledge is second to none.
Meet the Team
Charlotte: Charlotte's sales background has allowed her to hone her communication and problem-solving skills. This passion for helping customers and her love of the product means she knows exactly how to find solutions to customer queries.
Charlotte's favourite part of the job: 'I love the product and knowing we have made a bride happy.'
Karen: With various roles under her belt, Karen knows the company inside out. Having started her career as a veil maker, Karen's understanding of the production process allows her to offer advice and answer questions with ease.
Karen's favourite part of the job: 'Everyone is friendly and happy to help each other. There are opportunities to go to trade shows and meet customers!'
Aimee:  Aimee's background in accounts makes her an asset to the team; her ability to find solutions swiftly and with a calm and collected demeanour allows customers to feel secure and supported.
Aimee's favourite part of the job: 'I love seeing all the new designs, it is a really interesting job!'
Customer Service of the Year 2022
This dedication and attentiveness led our team to win Customer Service of the Year at the 2022 Bridal Buyer Awards. This was a huge achievement for them, and we are so proud that their dedication to Richard Designs has been formally recognised. They are all in agreement that winning the award has been a highlight of their time at Richard Designs.
The Importance of Good Customer Service
Since the brand's beginnings more than 35 years ago, kindness and looking after our customers have always been at the heart of the company ethos. Going above and beyond to get things right and maintaining a positive, can-do attitude reassures customers that they can come to us whenever they need to. Nowadays customers are able to reach us across a variety of channels, from the live chat function on the website to phone calls, to social media. Maintaining open communication with other team members such as our accounts and social media managers allows us to offer consistent and timely support to our stockists.
Why Richard Designs is the Best in the Business
Charlotte explains that consistency is vital: consistent contact and following through with any issues allows the team to ensure that the customers feel supported, and Aimee notes that they are always striving to improve their service, taking on feedback and always going above and beyond to allow for a seamless customer experience. When asked why they enjoy their roles in Customer Service, the team mentioned that they feel a sense of achievement when they speak directly to customers. This care shows their passion for helping customers: our products are part of some of the most treasured moments in people's lives; we want to ensure they don't have to compromise when it comes to their bridal vision. The sometimes complex requirements of our stockists require the customer service team to use their extensive product knowledge alongside open communication to create a chain of good relationships, understanding and transparency.
To build trust and confidence in our products, we prioritise giving our stockists the time and freedom to control how they purchase our products, instead placing our focus on being a dependable, flexible, and consistent brand with high-quality, luxury designs.
The ways in which we put customer experience above all else:
no minimums on orders- to give customers a chance to decide if the product works for them
territory and exclusivity- we do not sell our products online as we value the experience of shopping in a store
quick delivery- we offer super quick delivery for veils and accessories as they are made-to-order in our Ely HQ
simple customisations- to ensure the product is absolutely perfect for the customer.
Our customer service team have proven their dedication through their consistency: they are always happy to help, respond in a timely manner, and have created a rapport with their customers. The strong team ethos of Richard Designs allows for a smooth, efficient customer experience and a positive and productive space for our customers to come to us whenever they need to.
Want to know more about selling our products in your own store? Find out how to become a stockist >>
Not seen our latest collection yet? Browse our website >>