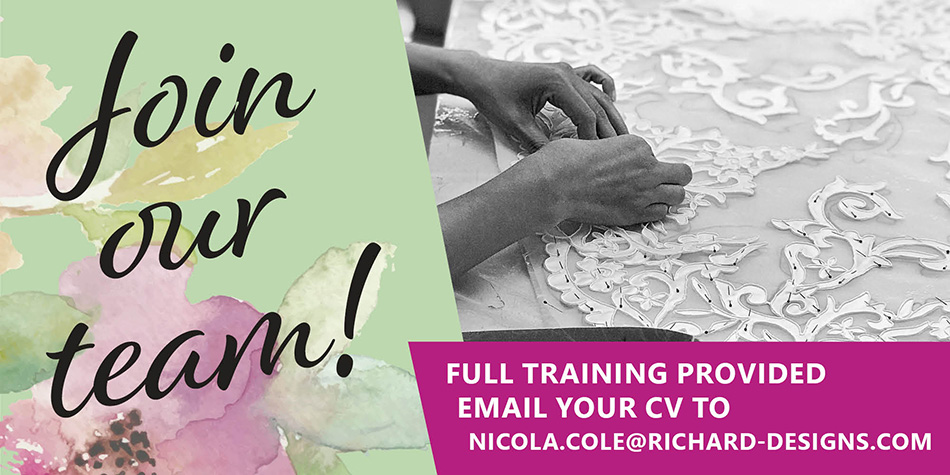 We have lots of opportunities for new team members to join our production team. Whether you are looking for a permanent position or summer work, a part time or full time role, please get in touch.
We currently have positions available for new trainees, experienced staff as well as apprenticeships. We welcome speculative applications, so if you are interested in joining our team and feel you have something to offer, please email your CV to [email protected]
---
Stockroom Assistant
We are looking for someone to join our stockroom team. Your main responsibility will be to assist with picking the components listed on the product description to ensure that our manufacturing area has a continuous flow of work.
Other duties may include:
Receiving in deliveries, which may include rolls of lace, net, beads, catering supplies etc
Booking in, unpacking and distributing deliveries as required
Repacking dress deliveries to be sent out to customers
Producing invoices for goods being sent out
Preparing any items for couriers/postal collections with all necessary paperwork
Helping to sort incoming order tickets to prioritise where necessary.
Providing assistance with our component website.  This may be picking, packing and posting of orders received.
Helping with stock counting.
Providing cover for other members of the team.
Essential skills must include:
Excellent organisational and time management skills.
Ability to follow instructions and work as part of a team, as well as on your own when necessary
Someone who is flexible and has the ability to work efficiently under pressure.
---
If you are interested in working with us please send us your CV or call 01353 661600.
You can find out more about what it is like to work with us on our work with us page, including working hours, location and transport links.