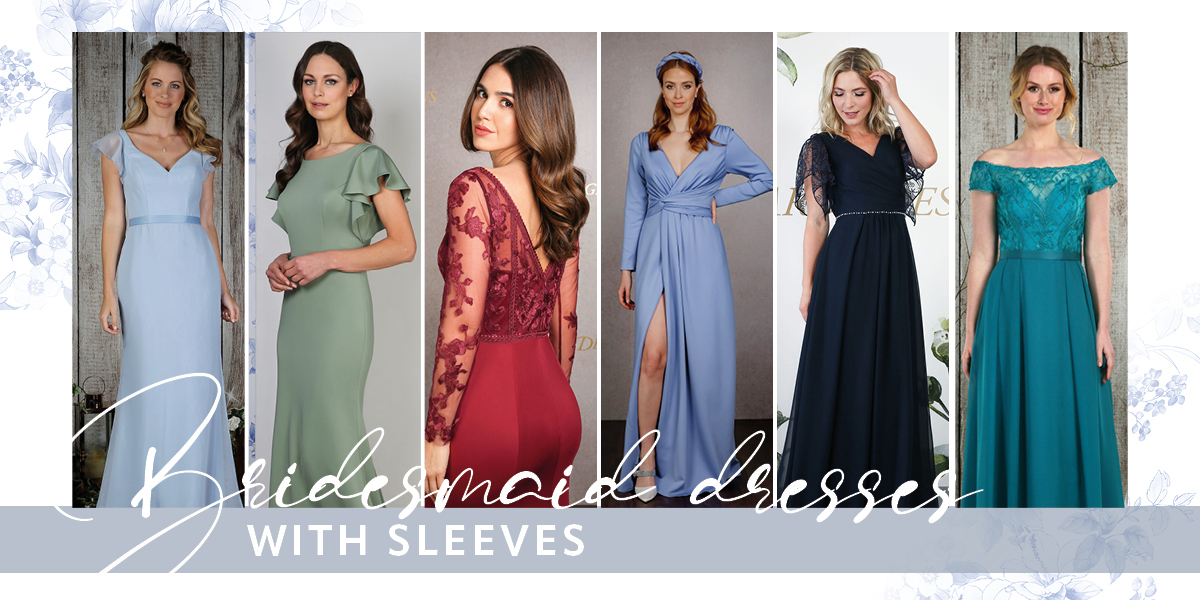 Bridesmaid Dresses with Sleeves
Bridesmaid dresses with sleeves are often popular among bridal parties as they allow your bridesmaids to add some extra coverage and feel their best in the dress. Timeless and elegant, sleeves are not only flattering on all shapes and sizes, but can help to add structure, balance and detail to any style.
It can sometimes be a challenge to find the perfect bridesmaid dresses that the entire bridal party feels comfortable in, and that fits the wedding theme. At Richard Designs, coordinating a bridal party couldn't be easier: we cater for all, so if a bridesmaid wants sleeves and others don't, that's no problem! With an impressive range of over 50 different shades and a broad selection of styles, each bridesmaid can choose a style they feel comfortable in the colour the bride loves.
If you're interested in finding out more about bridesmaid dresses with sleeves, we have broken down the different options available to help your bridal party make a decision.
Flutter Sleeves
Flutter sleeves are popular during the summer months due to their light and flowy nature. They are a great choice for those wanting to add just a little bit of coverage to the upper arm without adding too much heat.  Creating dimension within more minimalist styles and complementing wider hips or a larger bust by enhancing the shoulders, flutter sleeves are not only super practical but very flattering. With their romantic ruffled quality, they add to a soft and feminine style.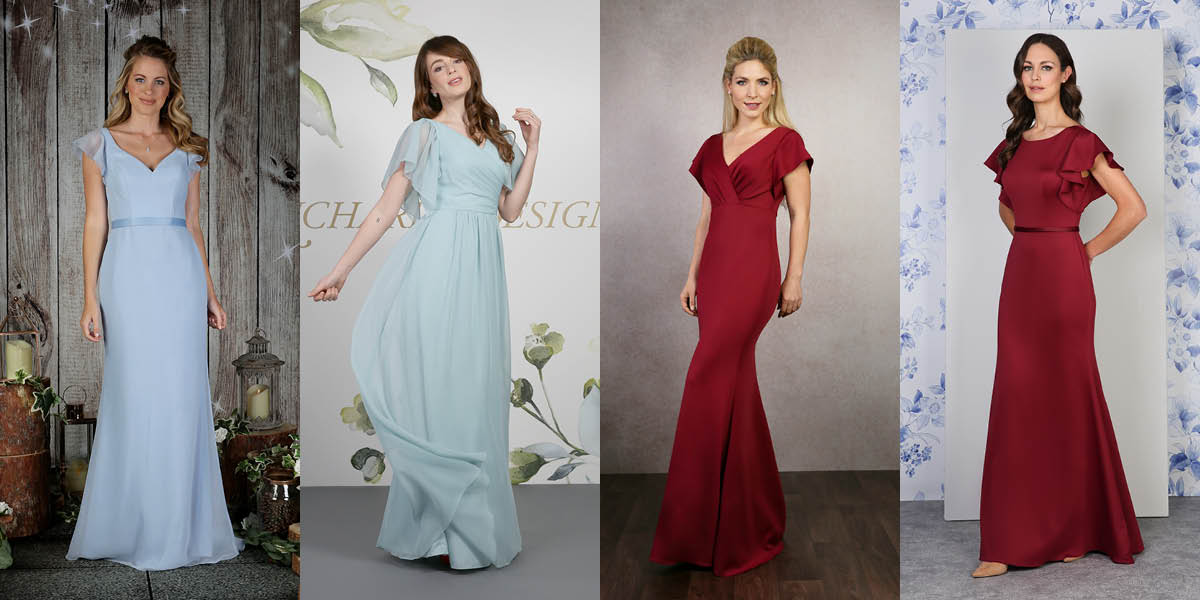 RDM1137 – Soft V-Neck Frill Sleeve Dress
RDM1176 – Pixie Sleeves Wrap-Over Dress
RDM1209 – Jersey Flutter Sleeve dress
RDM1279 – Angel Sleeve Jersey Dress
Long Sleeves
Long-sleeved bridesmaid dresses are a timeless and elegant choice. Perfect for those looking for a more modest style or wanting to keep warm during the cooler months. Adding a full sleeve does not need to be reserved solely for winter weddings, however, as the chiffon and lace sleeves can add to a boho look without being too heavy.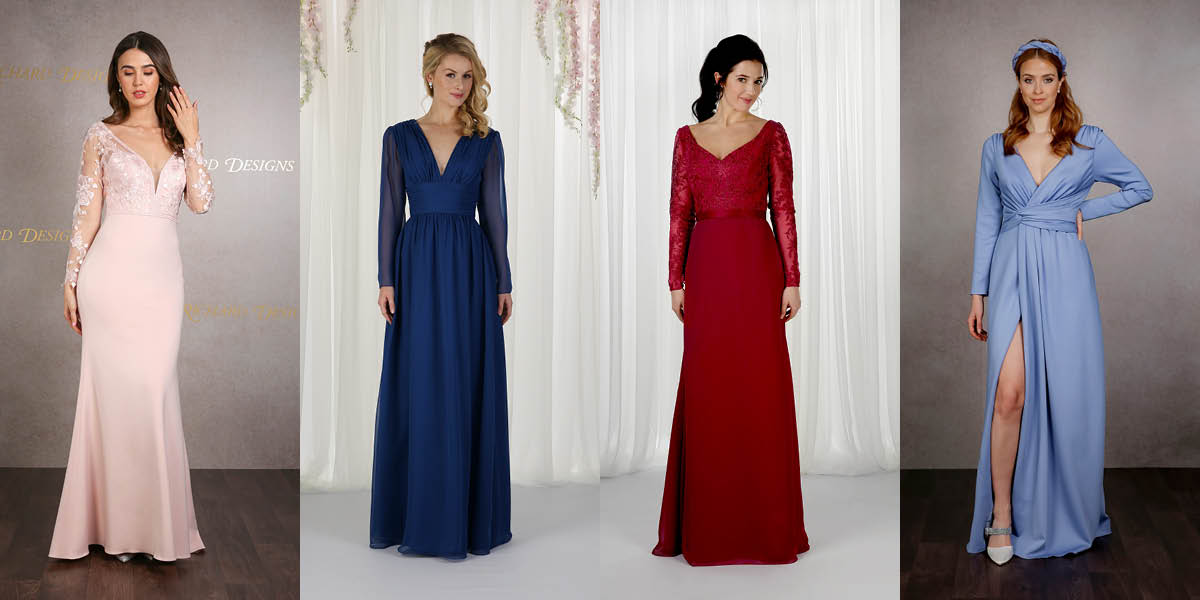 RDM1248 – Embroidered Lace Sheer Sleeve Jersey Dress
RDM1059 -Long Sleeve Chiffon Dress
RDM1087 – Long Sleeved Lace Detail Dress
RDM1214 – Luxe Jersey Sleeve Dress
Lace Sleeves
Bridesmaid dresses with lace sleeves are great to add texture and detail to your style while allowing your skin to peek through the fabric. Adding a touch of romance and elegance to your dress,  lace sleeves can range from sheer to full coverage.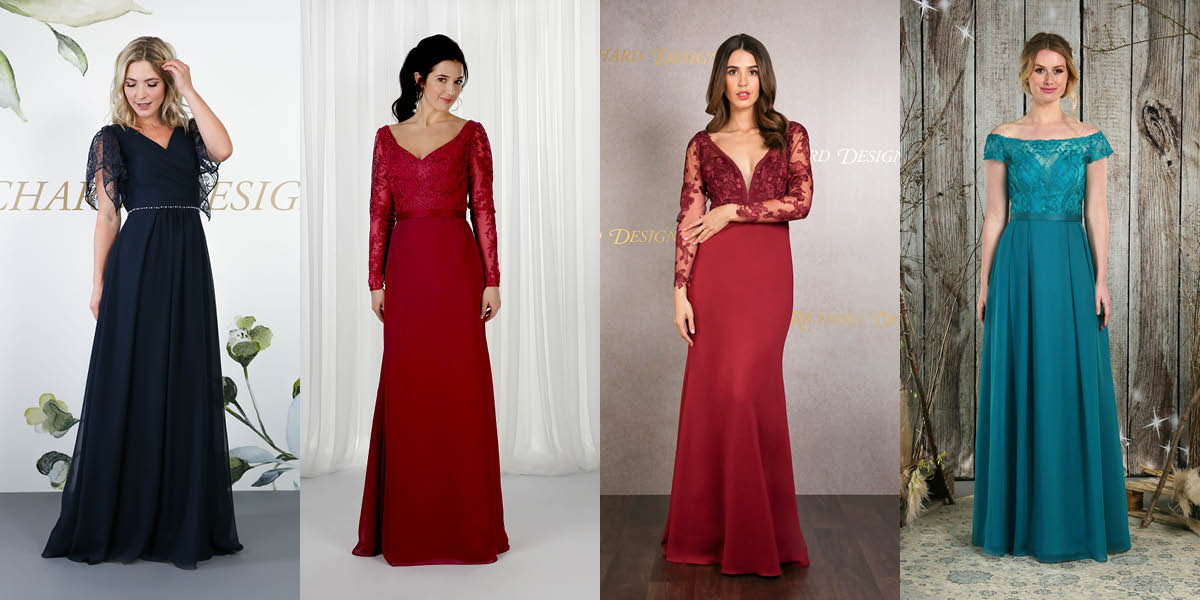 RDM1194 – Meadow Lace Wrap-Over Dress
RDM1087 – Long Sleeved Lace Detail Dress
RDM1248 – Embroidered Lace Sheer Sleeve Jersey Dress
RDM1127 – Sweetheart Lace Bodice Dress
With a wide range of styles available, bridesmaid dresses with sleeves are always flattering, elegant and glamorous and can add an extra bit of coverage to help you feel extra confident in your dress.
Browse our different styles to find the perfect style for you:
Where to buy?
Are you a shop owner and want to sell Richard Designs?