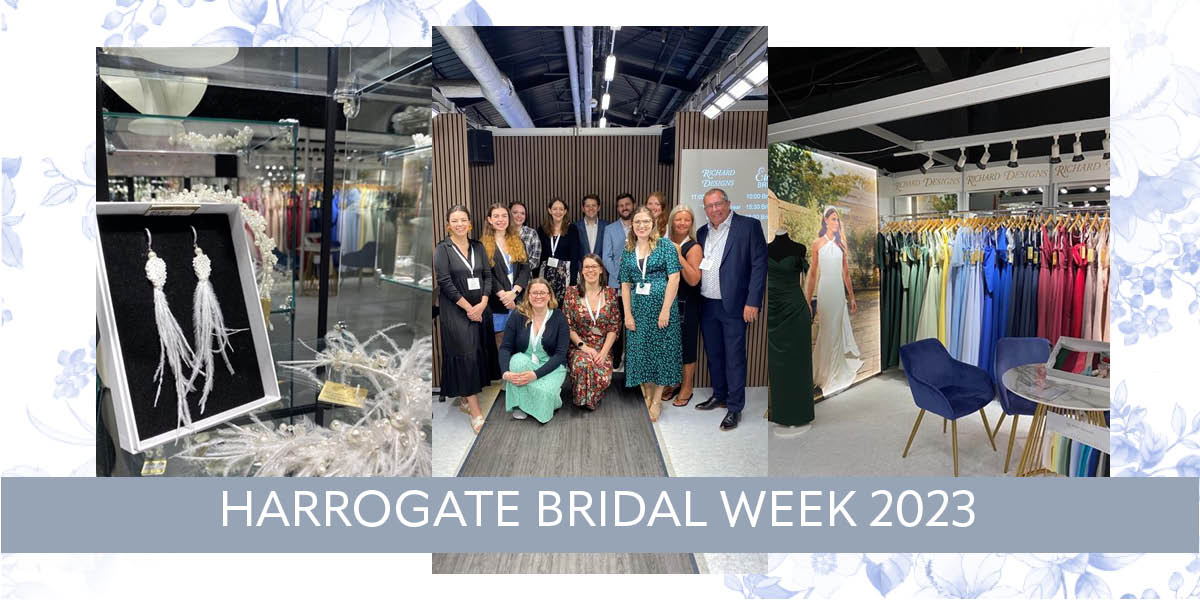 Collection Launch at Harrogate Bridal Week
Harrogate Bridal Week 2023
That's a wrap on another hugely successful Harrogate Bridal Week. Always the highlight of our year, this time we launched our Spring 2024 collection at the event. We are thrilled with the response we've received from stockists who came to visit from across the UK and Ireland.
Our Stand
We arrived bright and early on the Saturday morning to begin the set-up of our stand. We made sure to bring everything from twinkling tiaras to showstopping bridal gowns to ensure that everyone could find what they were looking for. Alongside the brand-new collection of bridal gowns, bridesmaid dresses and occasion wear, we had a whole new range of veils and accessories, each one carefully handmade in England for that personal touch.
In order for our customers to really maximise their Harrogate Bridal Week experience, we hosted our own catwalk shows. They have become such an important part of the event for us as they allow you to see how each style moves and fits on the body. See clips from our catwalk shows on our Instagram.
Our catwalk shows were so busy and we loved taking the time to meet new customers and catch up with familiar faces. We always appreciate feedback from customers and we were thrilled that everyone loved the new collection.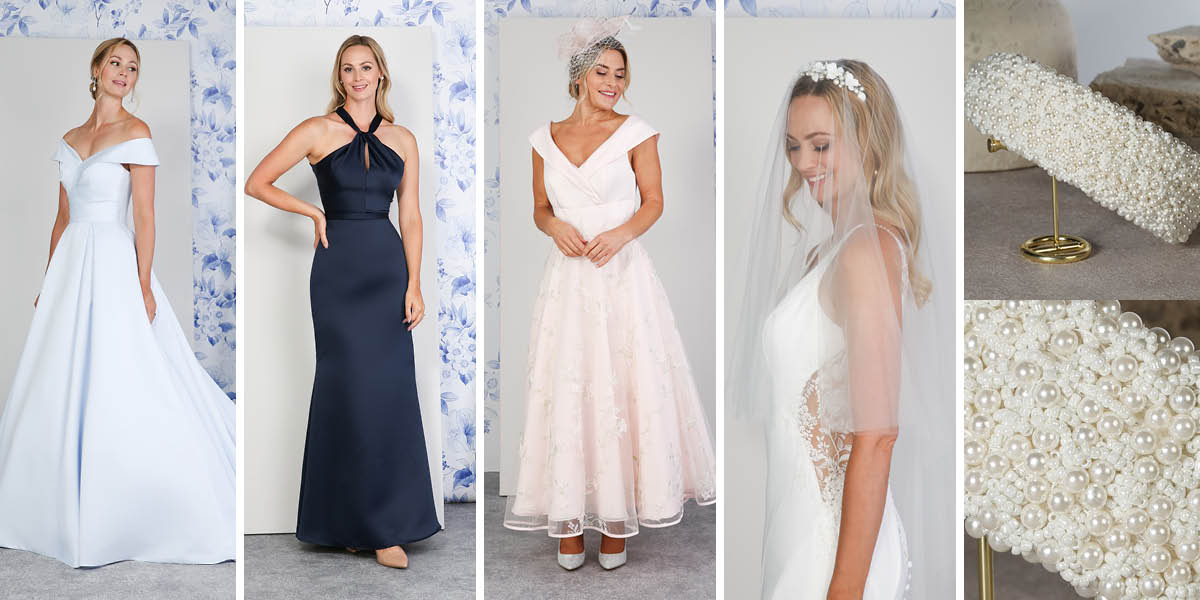 From left to right: Azura RDB1413, Fit & Flare Satin Halter Neck Dress RDM1305, Belle Dress RDAD1207, Lucent Tulle Veil C643B, Pearl Embellished Crown TR2804A
Favourite Designs at Harrogate Bridal Week
This season, our designs are centred around enhancing natural curves with softness, floral detailing and a touch of shimmer, and we are so pleased with the incredible response to all of our collections.
The bridal collection includes some incredible new fit and flare styles with the most gorgeous sculpted detail, accentuating your curves with beautiful embroideries and textures. Soft A-line silhouettes are embellished with embroideries, beading, pearls, and extra special finishing touches such as detachable sleeves and overskirts. 3D florals play a big part in the collection, adding femininity and texture to flattering silhouettes with our signature comfortable fit.
Buyers loved our new styles with a hint of colour for alternative brides, from soft-toned embroidery to statement washes of bold colour. Our Barbie-inspired princess dress with matching veil and headdress looked incredible on the catwalk, with the glitter layer sparkling in the light.
Of course, our elegant, minimalist styles were a favourite for this season, with slinky jersey and satin designs, dramatic Mikado and chiffon dresses, each with gorgeous shaping and minimalist detailing. With the softest, smooth fabrics, these minimal gowns are styled to focus on the silhouette and flow of the gown.
Wedding veils were created to match the romantic beauty and softness of our gowns, with an incredible choice for all types of weddings, from alternative brides wearing black veils, to feminine brides wanting pretty florals, to modern brides looking for statement pearl designs. The star of the show was our new lucent tulle veil – the most amazing lightweight tulle that has the softest feel.
Bridesmaid dresses were all about creating a flattering fit with our beautiful soft satin fabric. Favourites included new halterneck dresses (easy to fit and comfortable to wear), dresses with sleeves (light and floaty, perfect for a hot summer's day), and slinky satin designs (perfect as a prom dress as well as bridesmaids).
New designs are already making their way into stores across the UK, Ireland and USA, and we can't wait to see what 2024 and 2025 brides choose for their weddings. Let us know what you think of the collection, we always love to hear your feedback.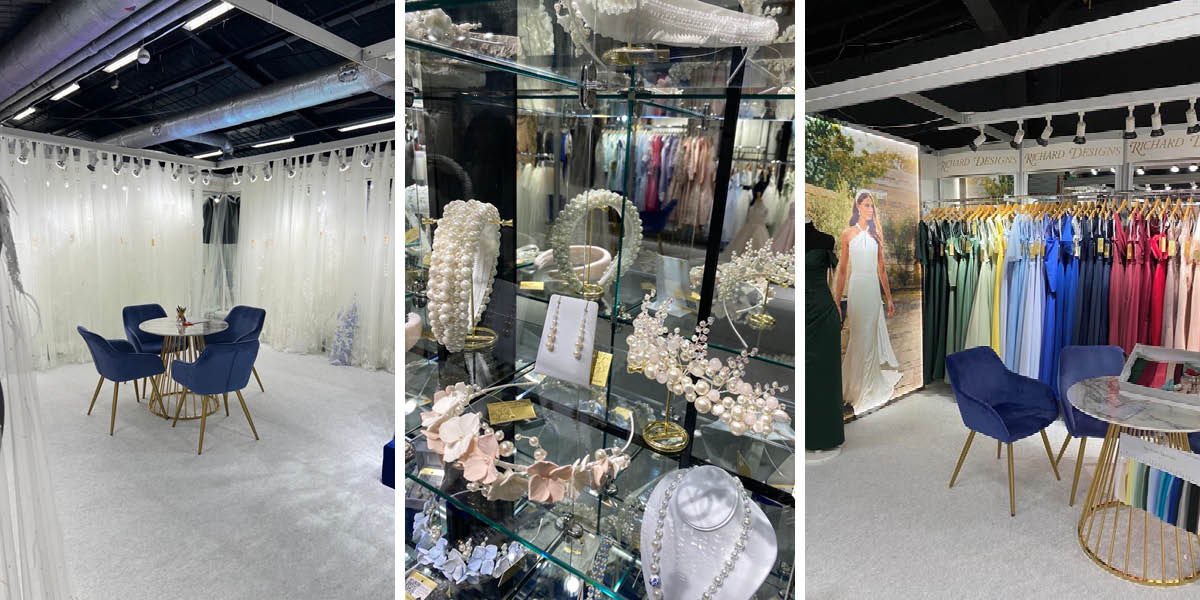 Richard Designs is a bridal wholesaler, open to trade only. Where to buy?
Are you a shop owner and want to sell Richard Designs?