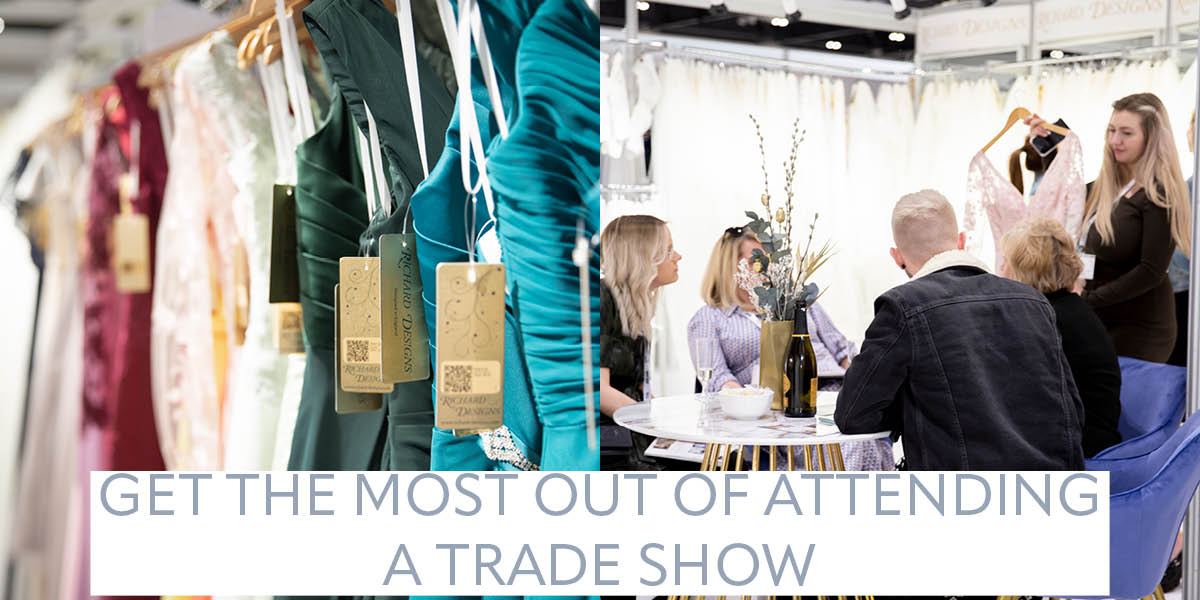 Get the Most Out of Attending a Bridal Trade Show
Bridal trade show days are arguably the most important and exciting days in a bridal retailer's calendar: they're a chance to immerse yourself in the wonderful world of weddings, watch your favourite brand's live fashion shows, and network with bridal wholesalers and retailers alike.
It's easy to get wrapped up in the event's excitement, so here are some of our top tips to ensure you get the most out of attending a bridal trade show.
1. Plan Ahead
In the weeks leading up to the event, you'll likely receive communication from the attending brands, detailing what they will be bringing. Make note of anything that catches your eye, so you have a list ready for the trade show.
Before you arrive, have a look at the floorplan to get a rough idea of who is where, so you won't miss your favourites. Bridal trade shows are also the perfect opportunity to discover new bridal wholesalers, so take the time to visit brands you've not seen before.
2. Define your Priorities for the Bridal Trade Show
Are there any styles your brides keep asking for that you are yet to stock? This is great information to keep stored away for a bridal trade show. Make a list of the specific styles or features that you'd like to add to your collection. This will keep you on track at the event. It's useful to research bridal trends beforehand too, so you know what will perform best in your shop over the coming months.
3. Get Organized Early
Don't leave it too late to book your accommodation and plan your travel. Whether you're getting public transport or driving, it's worth planning your route and booking a hotel as soon as possible. This will help you to avoid last-minute raised fares or booked-up hotels. Ensure a stress-free experience for yourself so that as the event approaches you can focus your attention on the beautiful designs.
4. Leave Time for Spontaneity
Bridal trade shows only happen a handful of times a year so make the most of it. Enjoy meeting fellow shop owners and designers, like-minded people with a shared passion for all things bridal. Share stories and take advantage of seminars to learn new tips and tricks for running a successful bridal boutique. Be sure to ask questions and get involved to get the most out of your visit. 
Share your experience with your followers and use this opportunity to create content for your social media. Take advantage of all the resources and get your customers excited about new styles. 
5. Make Appointments
Check the times your favourite bridal wholesalers are running catwalk shows and plan your day around them. These unique shows are often the best way to see designs, so you don't want to miss them! With these sessions booked, you can then use the rest of your time networking and forging stronger connections to improve your business relationships. 
6. Pace Yourself During the
Bridal Trade Show
We know the glorious buzz of a bridal trade show and we also know how easily the complimentary prosecco can flow. To ensure you can make the best buying decisions for your store, sip steady, have a budget and get your most important purchases ticked off the list before you get carried away. 
It's useful to split your time up to ensure you make the best decisions for your shop. If you're attending a two-day event, spend one day browsing and one day placing orders. This will give you the evening to think, reflect and ensure you've got everything you need. 
Finally, make sure you wear sensible footwear. Trade shows involve a lot of standing and walking so make sure you're wearing something comfy so that you won't have to waste time fishing out the blister plasters! 
Are you attending Harrogate Bridal Week 2023? 
The infamous Harrogate Bridal Week 2023 is fast approaching so, if you're attending, come and find Richard Designs on stand C48 and be sure to book your place at our live catwalk shows!