The Perfect Headpiece to Match your Wedding Dress
At Richard Designs, our award-winning headdresses are handmade in England, especially for you. From delicate hair vines to statement headbands, a headpiece is another way to let your personality shine through on your special day and should make you feel your best. Choosing a bridal headpiece that works well with your gown can take your style to the next level and make your wedding photos even more perfect!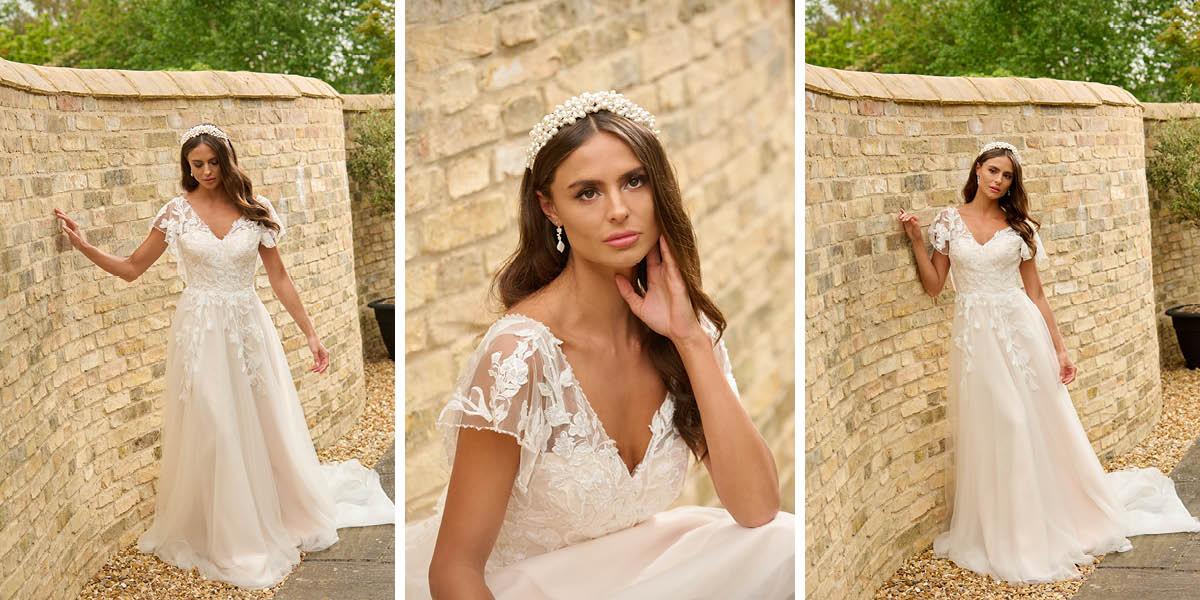 This gorgeous headband adds a lovely shimmer to your look with rows of different sized pearls clustered across two bands. This headdress is photographed here with our popular Amara dress, featuring lace appliques on the bodice and cape sleeves lined with delicate crystals. These styles come together in perfect harmony, creating a look that is both classic and modern.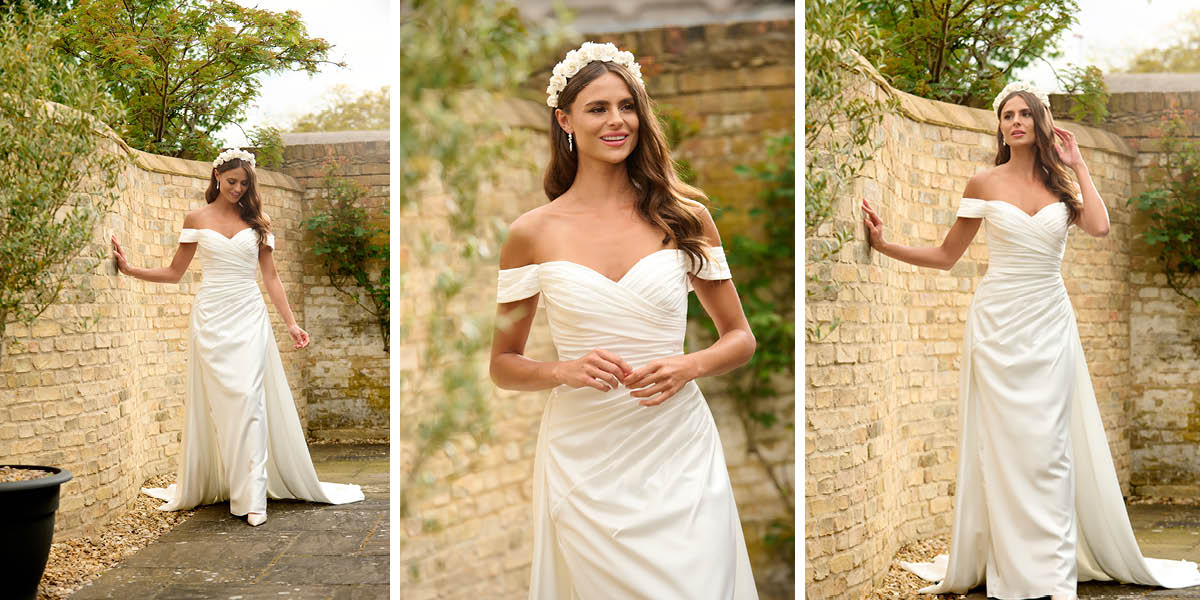 For more of a statement look, this Kahlo-esque rose headband has been hand moulded to give each petal a unique and natural look. Paired with the simple and elegant Mae gown, with its figure-hugging column skirt and Bardot neckline, the design allows the headdress to take centre stage, drawing the eye up to your face.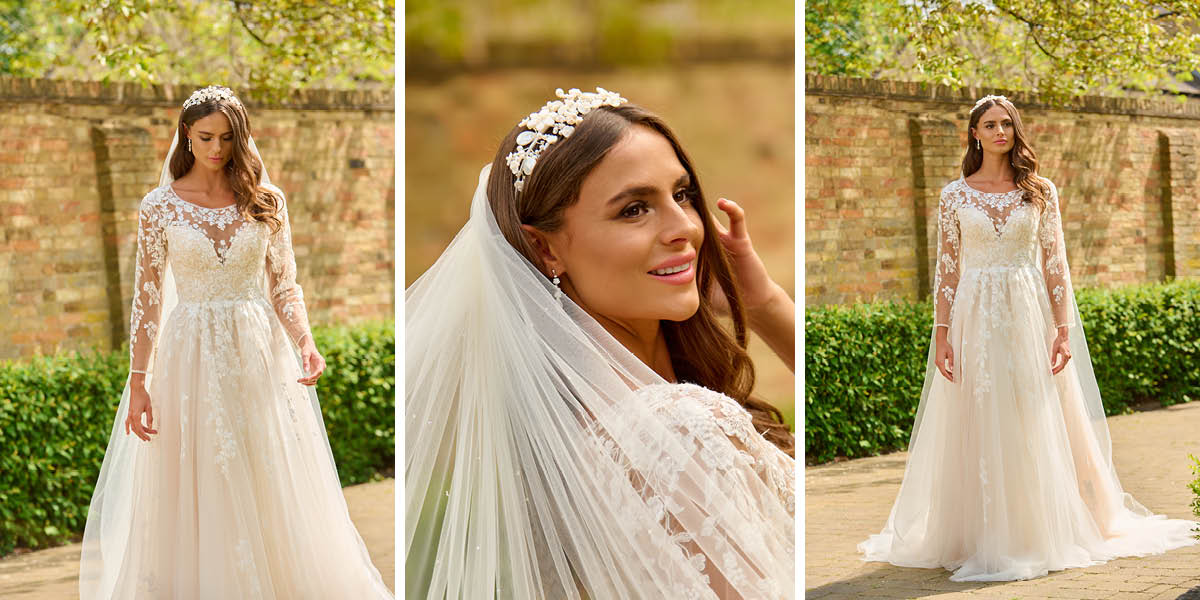 This gorgeous, delicate headband combines our hand-detailed shell flowers with beautiful, shimmering freshwater pearls. Worn with the timeless, traditional Hampton gown, the shell headband echoes the botanical lace that is peppered over the bodice of the gown, creating a beautiful, cohesive look.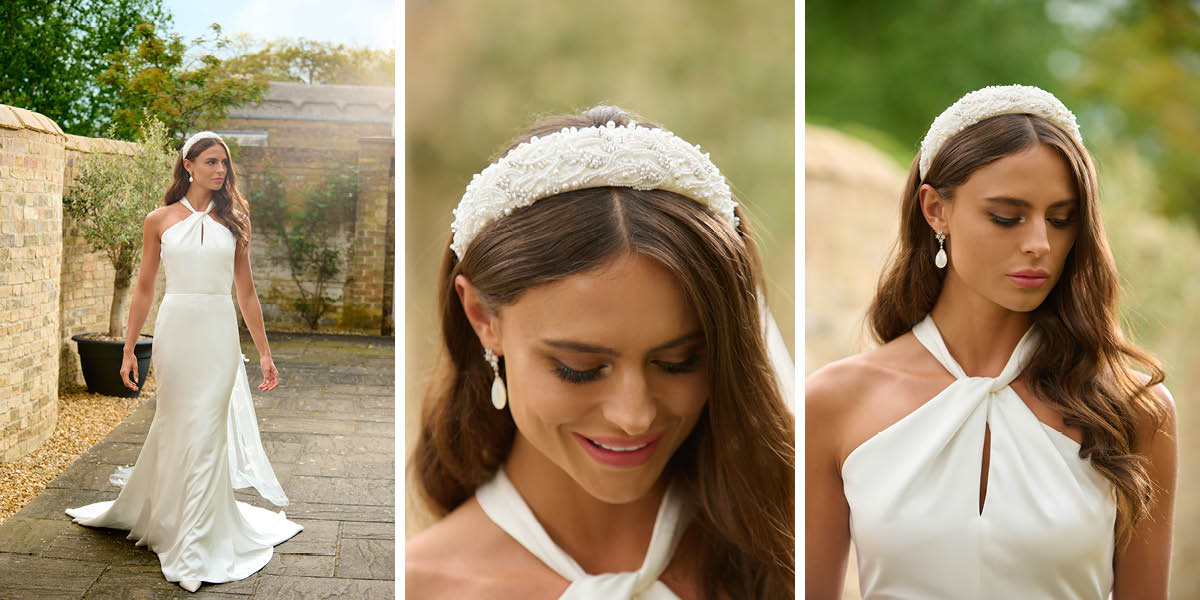 Our padded satin headbands are super popular as they add a modern feel whilst maintaining a sleek, clean look. These headbands are comfortable and secure, allowing you to wear them with ease all day long. This beaded band is full of texture and detail; the padding adds height to the top of your head, which elongates the upper body, creating a sophisticated, elegant silhouette. This style works perfectly with the high neckline and twist detail of the Capri dress.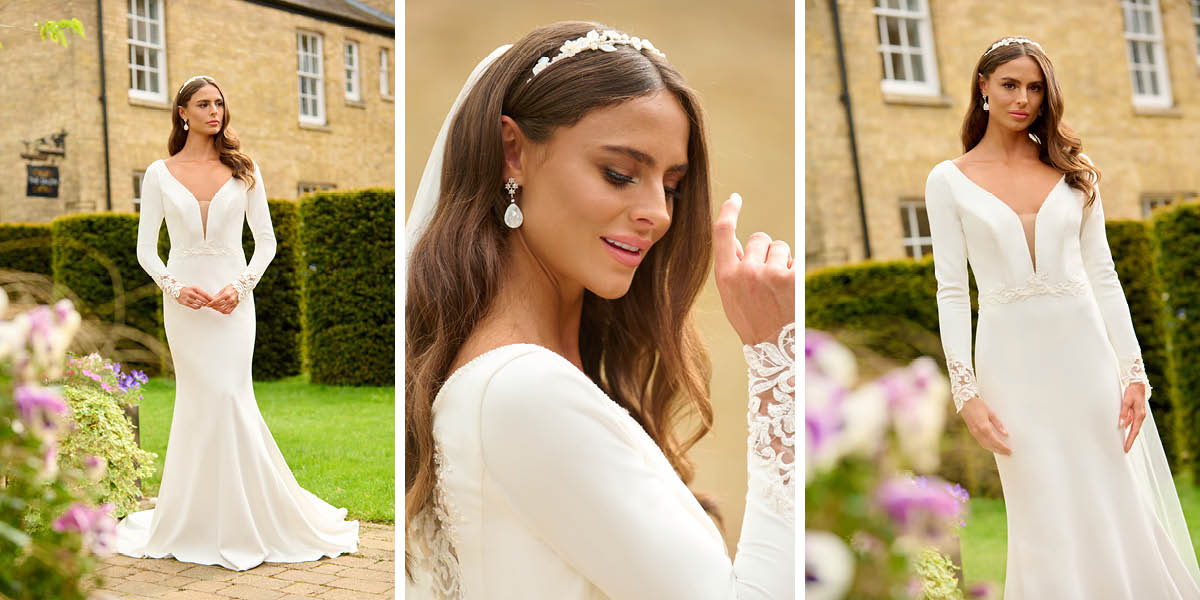 Our smaller, more delicate headdresses are great for adding a finishing touch without distracting from the rest of your look. Photographed here with Ember, the beaded embroidery on the sleeves and waistline are complemented by the slim headband, adding to the overall elegance of this look. This dainty headband looks gorgeous with bolder jewellery styles, such as these shell drop earrings.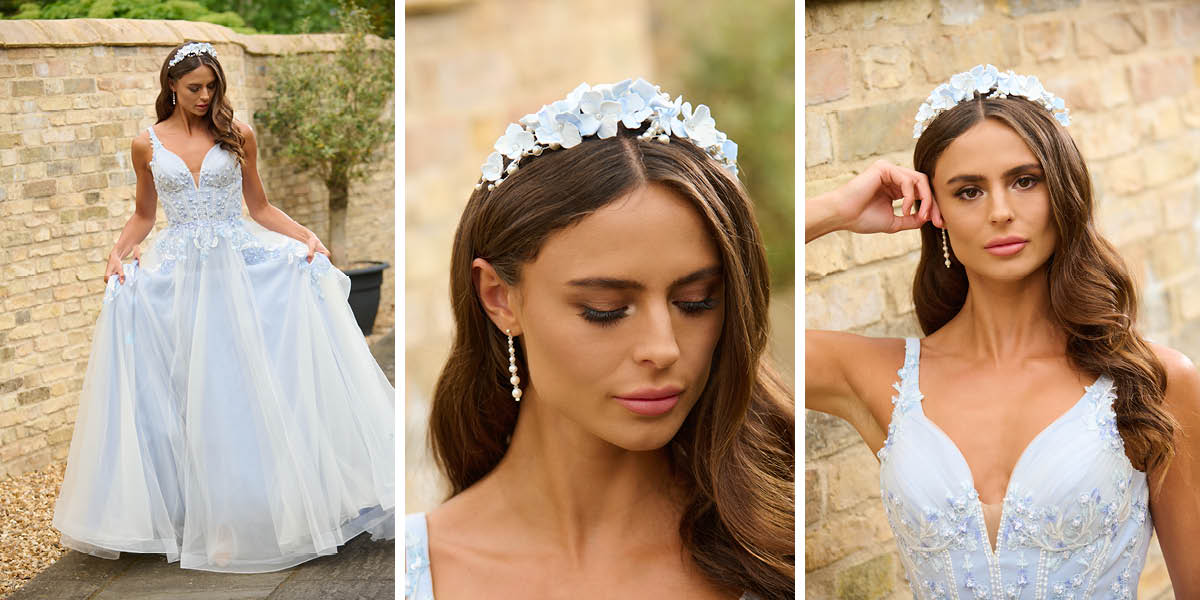 Add a pop of colour with this gorgeous porcelain headband, which combines hand-moulded flowers with sprigs of pearls for a boho floral style. Create a cohesive style by matching the colour in your dress: this style is available Cashmere Blue or Blush. This style looks perfect with the blue hydrangea lace of Forget-Me-Not.
Browse more headdresses to find the headpiece to match your wedding dress.
Where to buy? FIND YOUR LOCAL STOCKIST
Are you a shop owner and want to sell Richard Designs? BECOME A STOCKIST