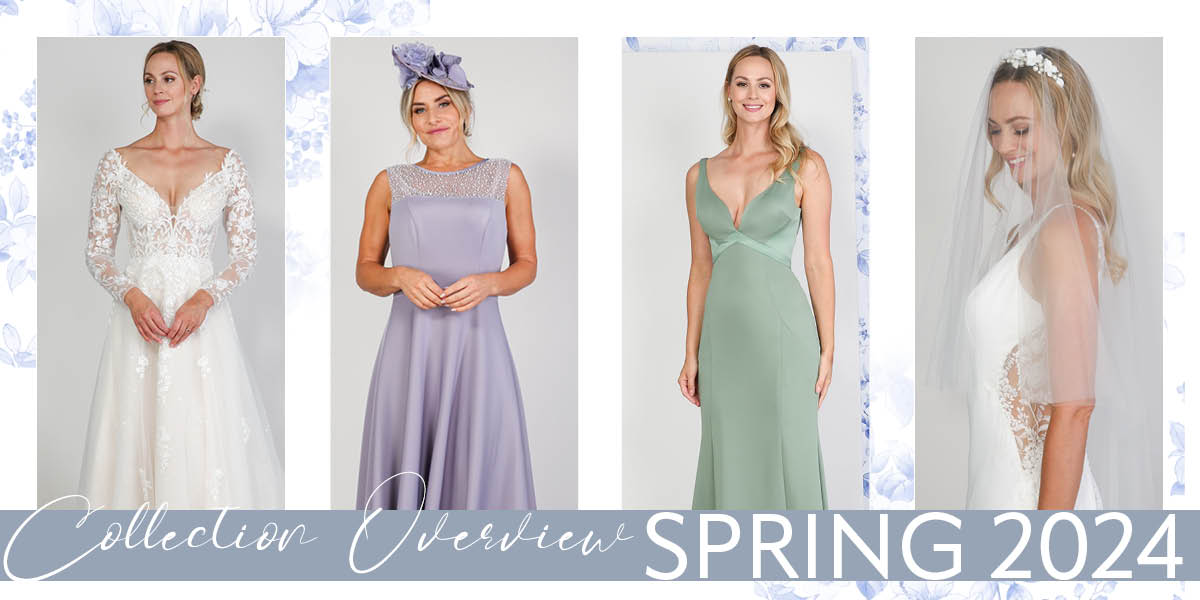 Richard Designs Spring 2024 Collection
The highly anticipated Richard Designs Spring 2024 collection is finally here, and we are so excited to share our brand-new bridal gowns, bridesmaid and flower girl dresses, occasion wear, veils, and accessories with you. This collection marks a new era of bridalwear with a focus on modern styling and purposeful detail to be proudly worn on the most special of occasions. 
We are excited to share the key features of the new collection.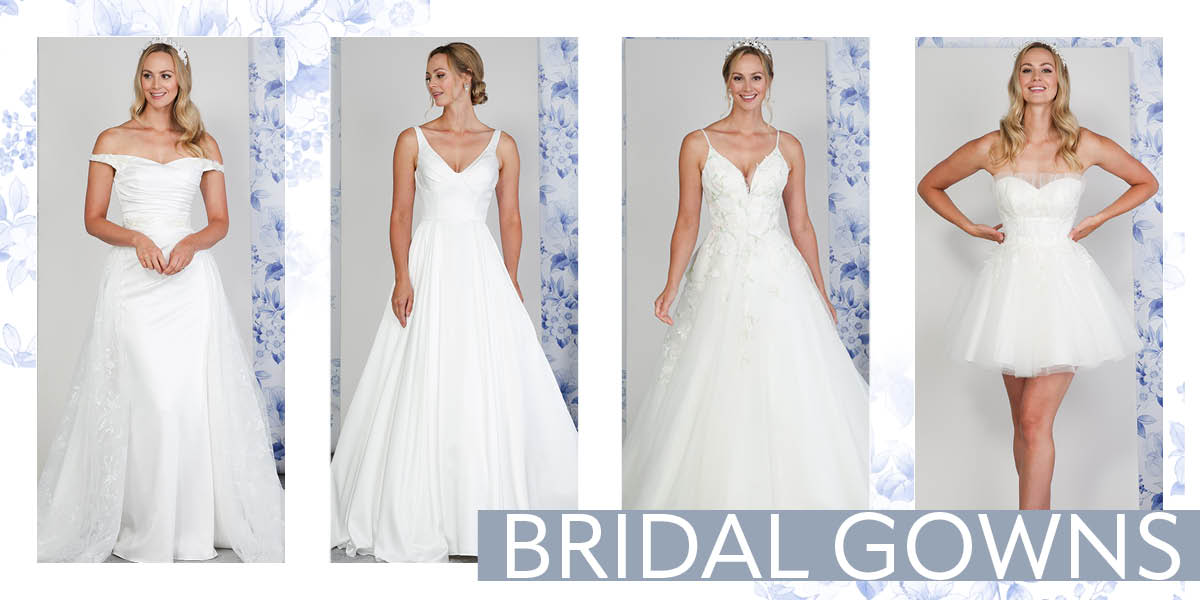 Left to right: RDB1396, RDB1385, RDB1381, RDB1408
Richard Designs Spring 2024 Bridal Collection
1. Soft Silhouettes
We've updated the classic A-line gown by adding an array of details such as pearls, sparkles and intricate embroidery. The ongoing trend of 3D florals can be seen throughout the Richard Designs Spring 2024 collection, to add wonderful texture and femininity. 
2. Figure-Hugging Fishtails
Our new fit and flare gowns have been specially crafted to accentuate curves. The placement of intricate embroideries and beading have been designed to flatter any figure. For the minimalists amongst us, there are still plenty of simple jersey and chiffon styles which put the high-end quality of the fabrics in the spotlight. 
3. A Pop of Colour
In the Richard Designs Spring 2024 collection, we have lots of choices for alternative brides who want something unique for their special day. With many brides looking for a pop of colour, we have a wide choice from soft, pastel hues in embroidery to bold, sparkly pink and black bridal gowns.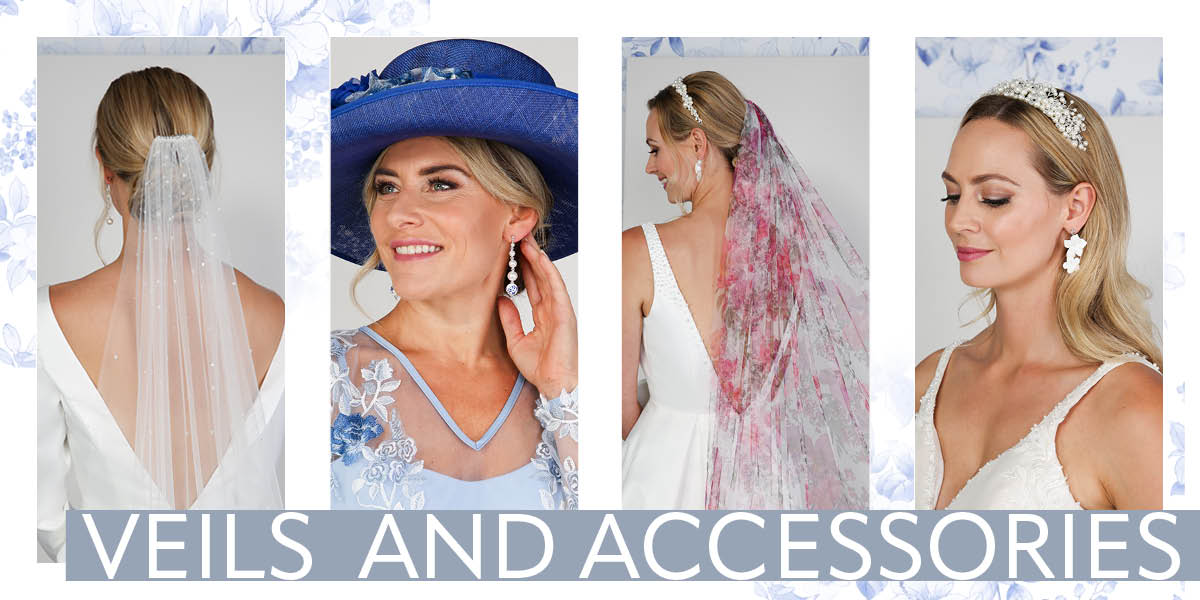 Left to right: C643A, P1046E, C645B, E204
Traditional Veils and Sparkling Details
1. Exclusive Lucent Tulle
We've created a new tulle for the Richard Designs 2024 collection. Lucent tulle is our softest, lightest tulle yet, and you really do have to feel it to believe it. This tulle has opened up a range of possibilities for our veil designs and adds a fresh, modern look to even the simplest of styles.
2. A Hint of Sparkle
Our headdresses and accessories are embellished with gorgeous ivory components such as porcelain flowers, chiffon, satin and pearls to give a luxurious look to each style. 
3. Update the Traditional
From our new printed veils with beautiful floral designs and stunning summer colours, to our sparkly gold veils that provide a glamourous look with extra impact, our statement veils will stand out in any shop window and provide brides with a unique piece for their wedding.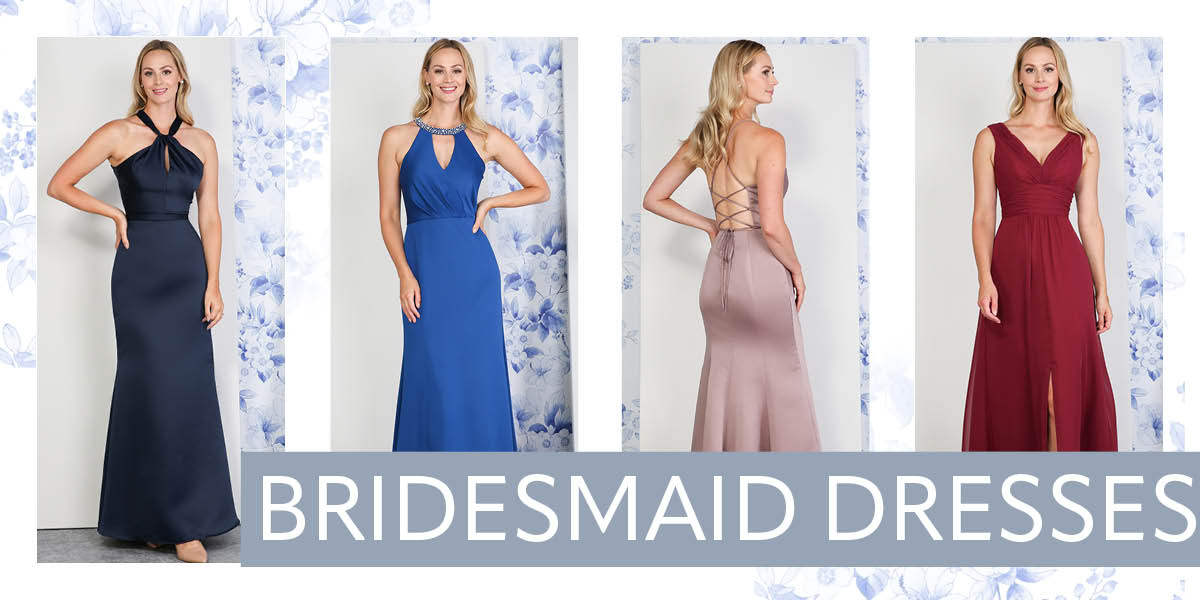 Left to right: RDM1305, RDM1318, RDM1314, RDM1317
Sleek and Stylish Bridesmaid Dresses
1. Luxurious Satin
The Richard Designs Spring 2024 collection includes lots of satin bridesmaid dresses. The satin fabric provides a fresh and modern feel, and with over 50 colours to choose from, matching a bridal party to a wedding theme is simple. 
 2. Twist on a Classic
Halter necks, knots, corset-style backs, floaty sleeves, bows and cowls are all included in this collection. Perfect for those brides who are looking for a sexy, modern dress for their bridesmaids. The fabrics used for these dresses maintain a sense of simplicity without lacking detail. 
 3.  Trendy Details
Elements such as slits, corset backs and slinky, figure-hugging shapes make the collection feel sleek and stylish. These styles are perfect for prom as well as bridesmaids.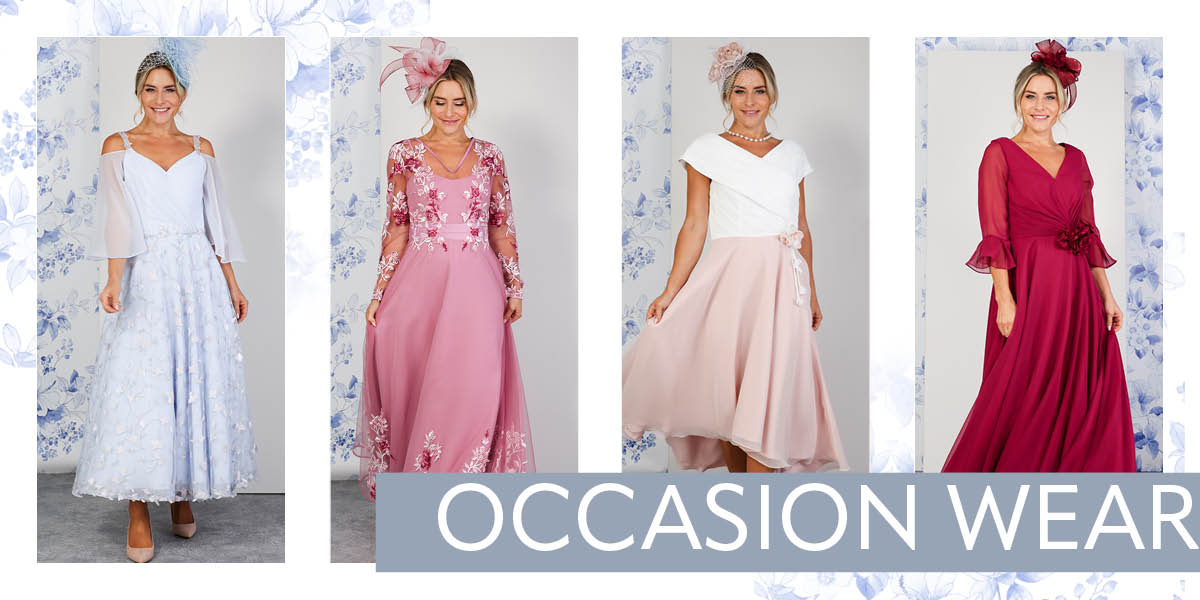 Left to right: RDAD1205, RDAD1124, RDAD1206, RDAD1218
Elegant and Flattering Occasion Wear
1. Botanical Inspirations
Our new occasion wear has been thoughtfully crafted for the modern mother of the bride, with inspiration drawn from the bucolic scenery of an English country garden. As such, you can expect to see our botanical embroideries take centre stage in this collection, evoking imagery of joy, beauty and love. 
2. Flattering Features
Designed with modern details, such as longer-length skirts, waist-enhancing features and a variety of sleeve options, this collection is, at its essence, about elevating and celebrating the mature figure and creating styles that allow any woman to feel their best. 
Throughout this collection, you will see the deliberate and careful use of pleating and draping in a way that sculpts the figure. Our occasion wear collection features a generous waist measurement to accommodate the more mature figure and ensure comfort all day long. 
3. Elegant Necklines
The wide necklines that feature in this collection are perfect for defining the decolletage while a variety of sleeve options make it easy to find the right amount of coverage. You can easily find styles to keep away the chill of the church without overheating on the dancefloor. 
Where to Shop Richard Designs Spring 2024 Styles?
Do you want to shop the brand-new Richard Designs Spring 2024 collection? It's simple, just click here. 
Richard Designs is a bridal wholesaler, open to trade only. Where to buy? 
Are you a shop owner and want to sell Richard Designs? 
We are hosting a virtual catwalk show for Richard Designs stockists to see the new collection.