Why Wear a Petticoat?
What is a Petticoat?
Petticoats have been a fashion staple for hundreds of years, adding shape and structure to the fashion of many different periods of history. Most commonly worn underneath a skirt or dress, petticoats keep the fabric away from the ankles, making dresses easy to walk in. The petticoat, sometimes referred to as a hoop skirt or an underskirt, also creates a buffer between the dress and the body, keeping the wearer cool and comfortable.
Richard Designs are a fabulous addition to your bridal outfit as they keep your skirt looking clean and full. You won't have to lift or kick your dress to move as the petticoat moves with you. Our powernet fabric is soft and gentle against the skin and works to smoothen and enhance your silhouette giving you an extra touch of support on your big day.
Depending on where the petticoat sits on the hips, the length can be easily adjusted. If your dress is just a little bit too long, a hoop skirt with a wide circumference will help support the extra fabric, making it the perfect length. Petticoats won't be seen under the skirt, but the neat satin trim on our designs means that if they are visible, they blend in beautifully with your dress. Richard Designs Blue Ribbon Petticoats feature a hand tied blue bow for your "something blue."
Our Most Popular Petticoats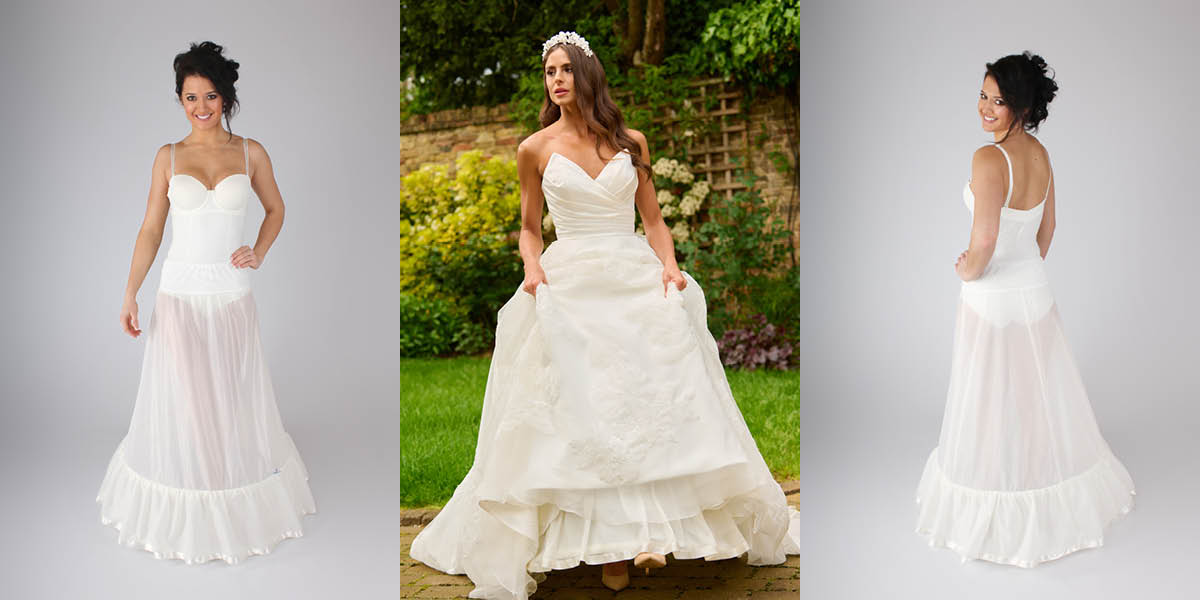 A popular hoop skirt style with double metal hoops to support your A-line dress. The hoops have an approximate circumference of 100″ (2.5m), keeping the fabric away from your ankles making your dress easy to walk in. Using powernet at the waistband creates a smoothing effect, giving you the most beautiful silhouette. The full fabric frill underneath the hoop is lined with ribbon for a luxurious feel on the body.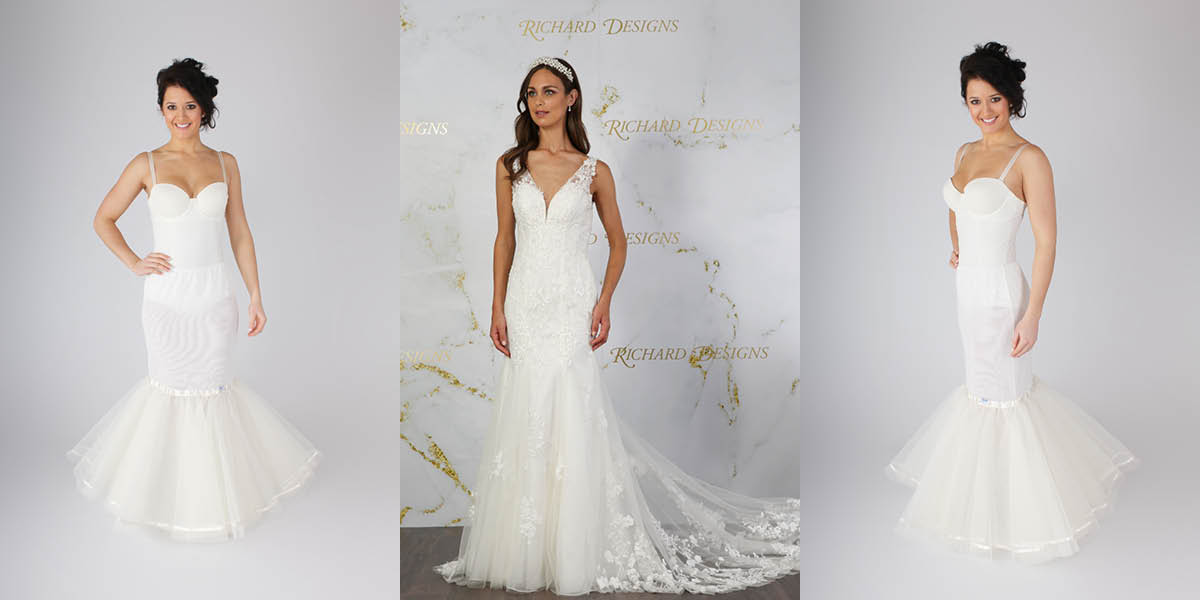 Three layers of nets lift the bottom of your fit and flare gown, while two layers of powernet add a smoothing effect at the waist. This single hoop petticoat measures approximately 80″ (2m) for a gorgeous silhouette.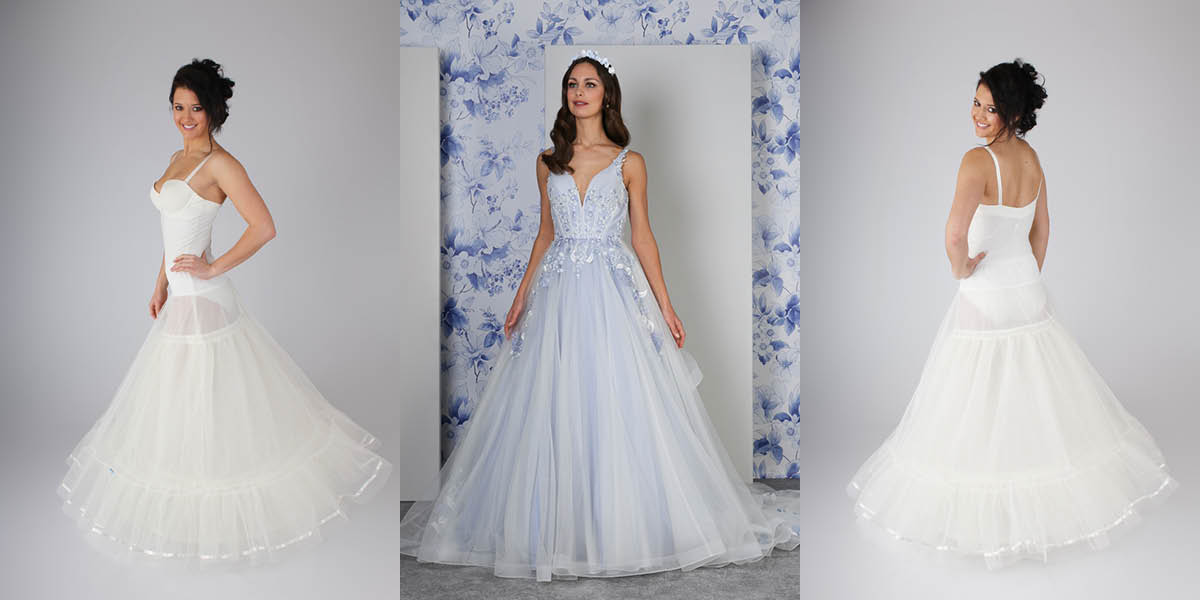 A classic, full petticoat style with layers of gathered nets for volume and structure. This hoop skirt style has an approximate circumference of 100″ (2.5m) which will support even the heaviest of skirts and make any style easy to walk in. Trimmed with satin for a smooth finish and to blend in with the hem of your dress.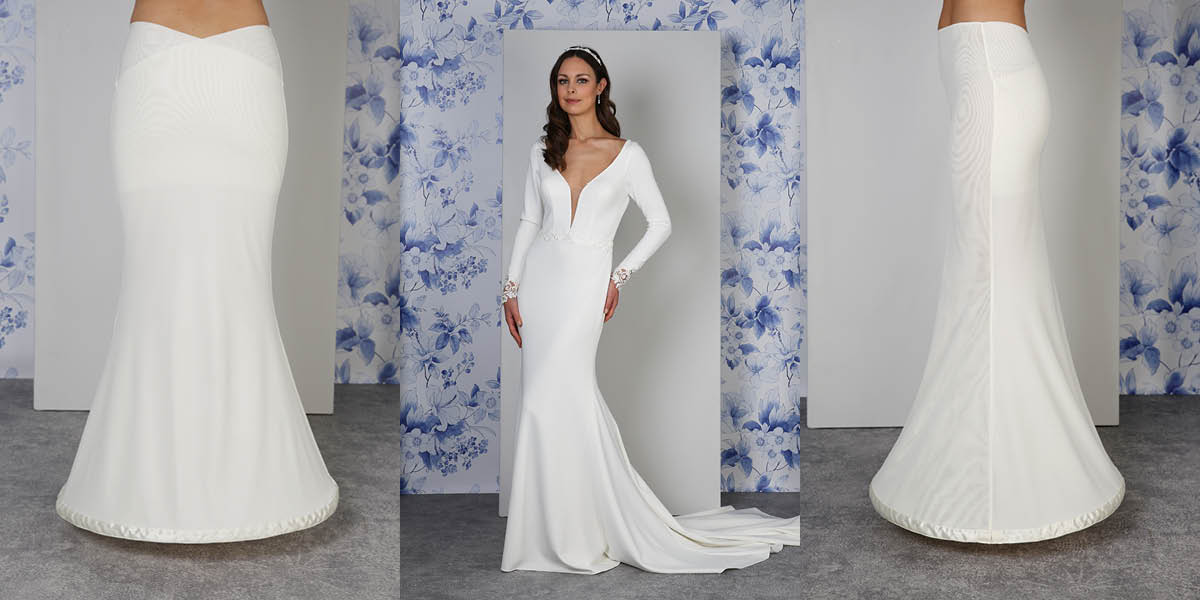 This slim-fitting powernet petticoat features a cross-back design, making it the perfect choice for your low back, fit and flare bridal gowns. No more kicking your dress as you move as this hoop skirt style is easy to walk in as it keeps the fabric away from your ankles. Carefully designed to be seamless on the outside, this underskirt is perfect for adding another layer if you're worried your dress might be see-through.
See how a petticoat makes all the difference
To get more helpful tips and tricks follow us on Instagram. TAKE ME TO INSTAGRAM
Browse our selection of more than 22 different styles to find the perfect shape for your wedding dress: SHOP PETTICOATS
Where to buy? FIND YOUR LOCAL STOCKIST
Are you a shop owner and want to sell Richard Designs? BECOME A STOCKIST