Richard Designs Fascinators
Alongside our fabulous selection of occasion wear, we offer a wonderful array of fascinators. All of our accessories are made with their matching items in mind to take you to the next level of sartorial sophistication. Whether you are looking for a statement piece complete with feathers, horsehair, millinery net, the works (see MBF1197) or just fancy adding a nice detail to your outfit (our chiffon and tulle fascinator is a great choice for this (see MBF1196)), the possibilities are endless!
With over 50 colour options to choose from, you won't have to stress finding accessories to match your dress and, as all our products are made to order, in England, we endeavour to be as flexible as we can with any details you may want to change.
Our Favourite Materials
A Feather in your Cap: a symbol of art and luxury, feathers work so well in our fascinators to add a sense of movement and lightness to your look.
Millinery Net: favoured by the royals, millinery net is ubiquitous in the world of fascinators and perfect for adding a touch of tradition to your attire.
Off to the Races: using horsehair in our fascinators allows us to create 3D shapes and volume to make you stand out from the crowd.
The New Collection
This delicate floral fascinator features petals and leaves made from lace, chiffon and net. Feathers are added to balance out the look creating a wonderful, romantic fascinator. This fascinator looks amazing with our Lightning dress (RDAD1184) with its floating floral embroidery overlayer and its two-tone look.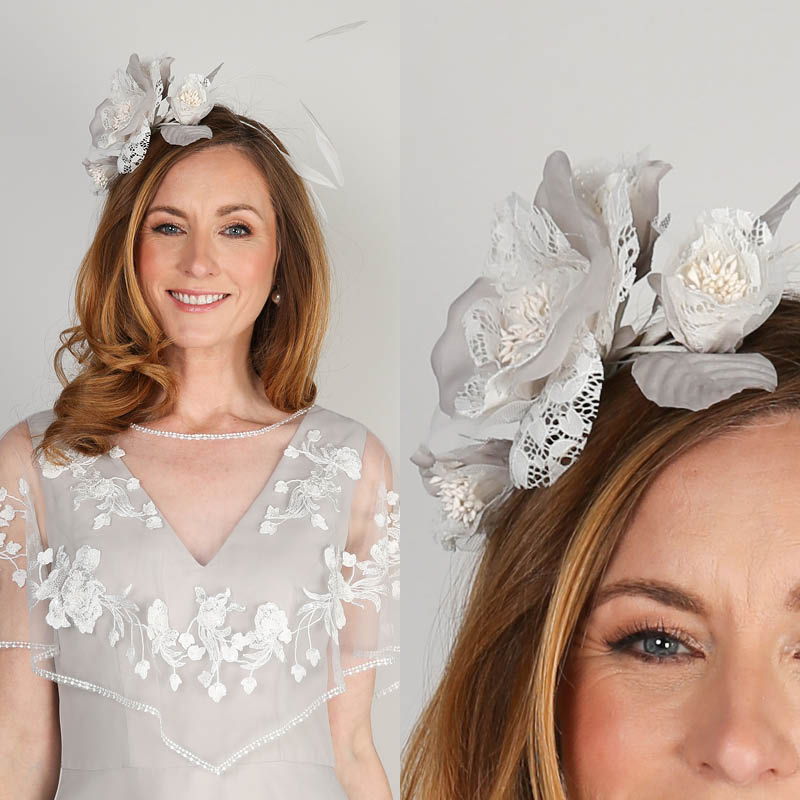 This fascinator is perfect if you want something sleek and elegant: the satin petals add a subtle shine which reflects onto the face making you look extra radiant; the horsehair details add interesting shape and structure; the millinery net ties it all together. This fascinator pairs beautifully with Shadow RDAD1191 with its slinky quality and stunning hand-swirled rose detail on the waistband.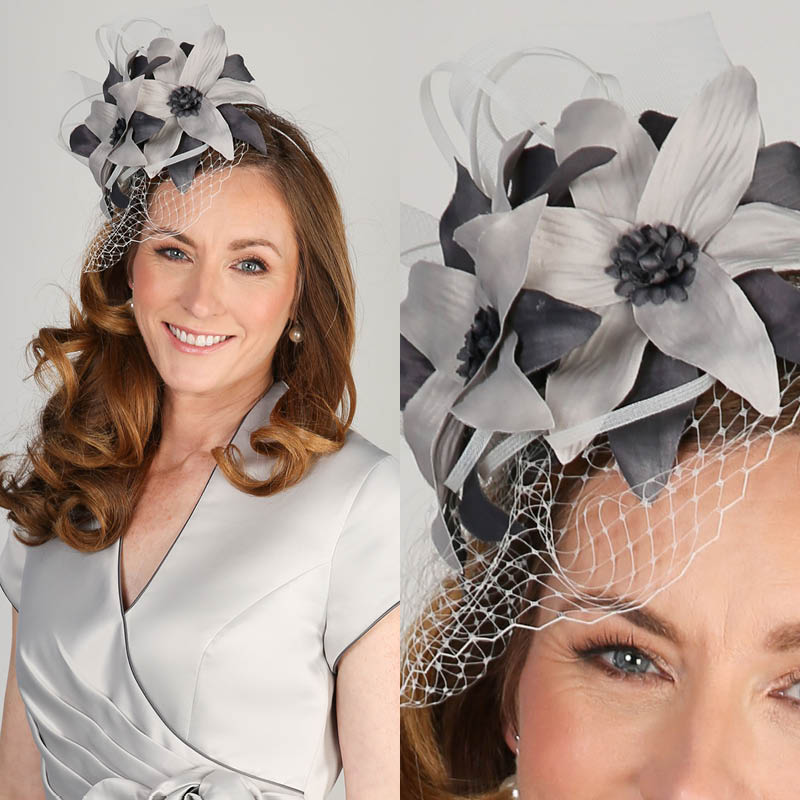 This wonderfully boho fascinator features all the texture! Satin petals and rosebuds sit alongside delicate feathers and horsehair details and millinery net adds a touch of tradition. With its intricate details, this fascinator complements Eternity (MBF1194) brilliantly with its embroidered chiffon and layers of luxe fabrics.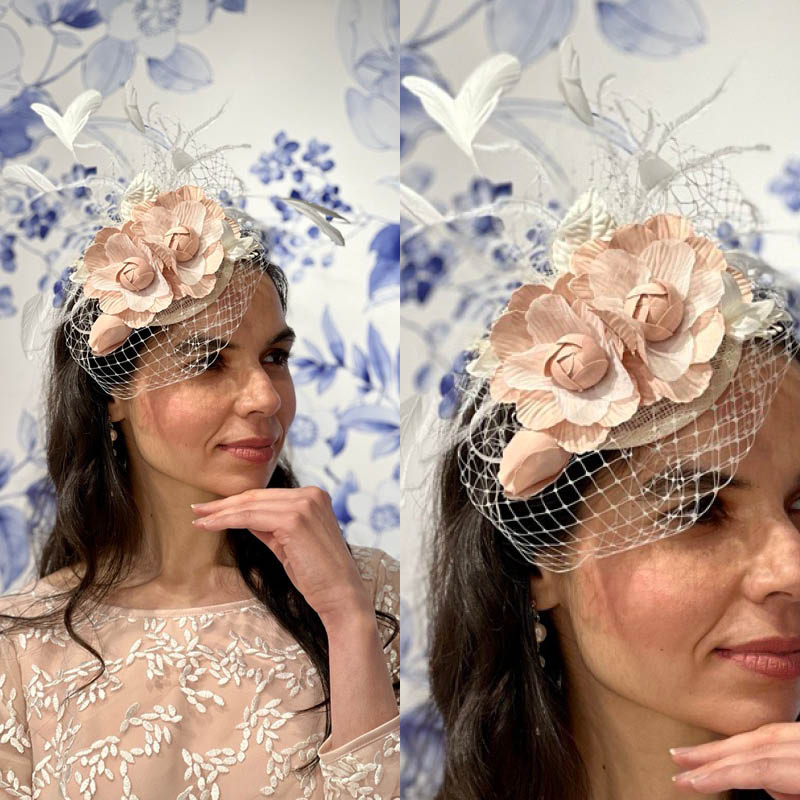 This fascinator features satin and tulle petals with tulle details. It is one of our smaller fascinators for those who prefer a more minimalist look. The elegance of this floral fascinator pairs perfectly with the drama of Lunar (RDAD1196) and the simplicity and softness of Constance (RDAD1188).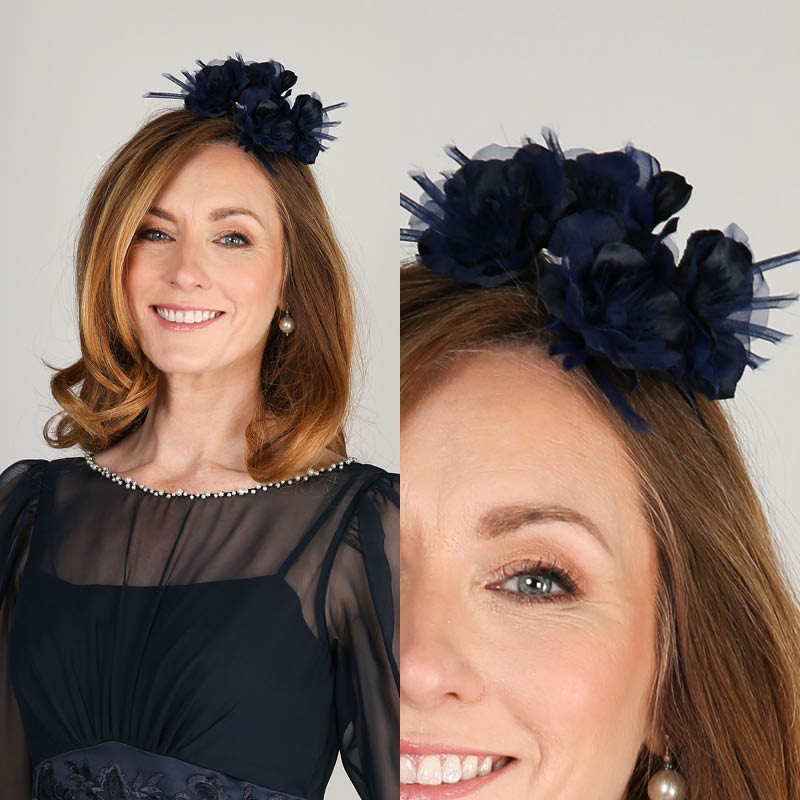 A light and airy fascinator, a large, beautifully shaped horsehair rose is adorned with feathers creating a simple yet eye-catching look. This fascinator looks sublime with Blue Skies (RDAD1197) with its unique hydrangea embroidery on chiffon.

Want more?
Browse our latest collection for mother of the bride