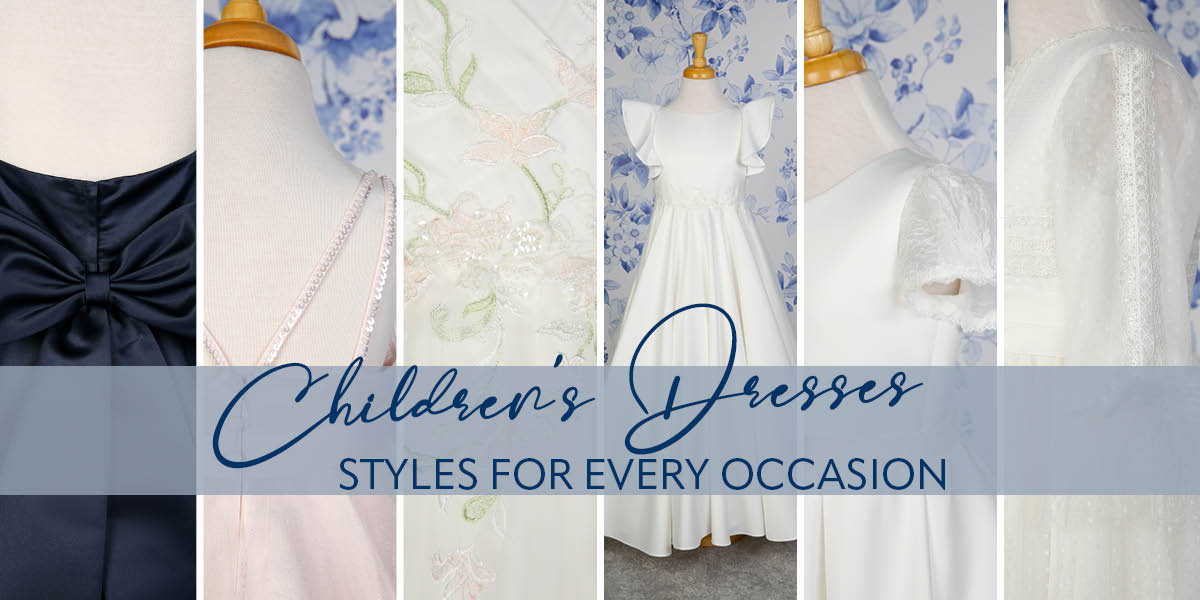 Children's Occasion Wear
Whether you're looking for a flower girl dress, a Holy Communion dress or a party dress for your little ones, Richard Designs' selection of children's occasion wear will make any little girl feel special. Featuring lace, frills, sparkles and bows there is a style perfect for every occasion.
When dressing your little ones for their big event, it is important to ensure they wear something in which they are comfortable and feel special. That's why we take extra care over the placement of every embellishment, and choose soft, easy-to-wear materials without sacrificing the cuteness factor.
Colourful Children's Occasion Wear
With a wide range of styles for flower girls, it's easy to find the perfect dress for your flower girl or any younger members of your bridal party. With styles to match our bridal gowns and bridesmaid dresses, flower girls can feel part of the bridal party in a mini-me style.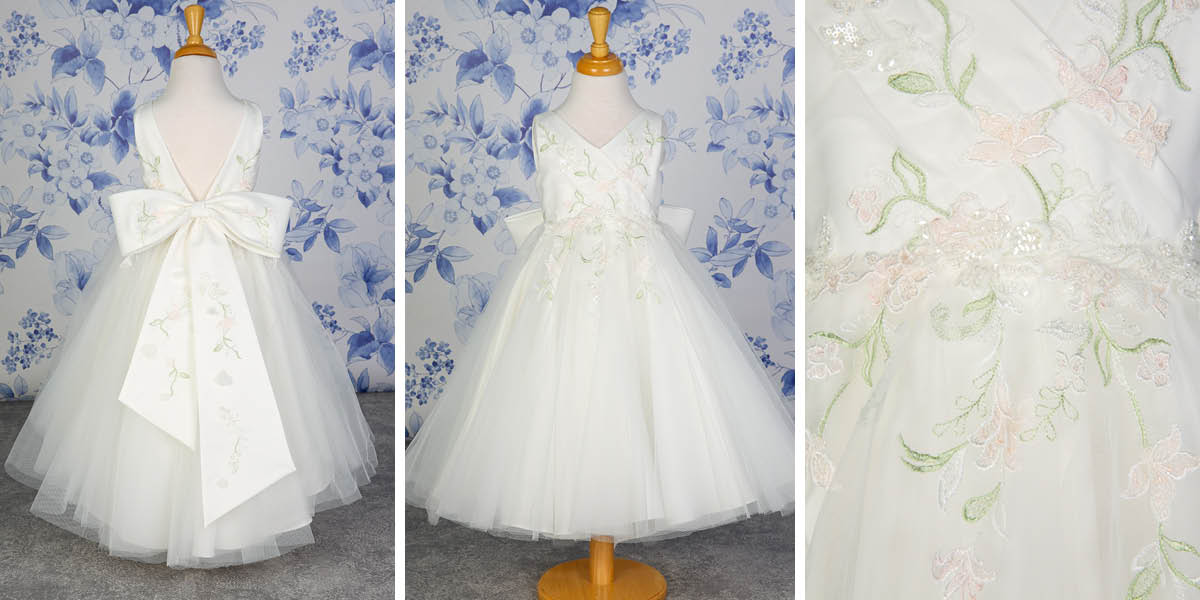 Orchid Flower Girl Dress RDF1132  – A mini-me style for Orchid Bridal Gown, this flower girl dress shares the same blossoming orchid lace, brushed with soft pastel hues and intricate beading, bringing dimension and life to the design. An oversized bow sits on the back, adding a cute finish, while the layered skirt adds shape and structure to the perfectly twirlable tulle. The perfect flower girl style to symbolise the bride's younger self.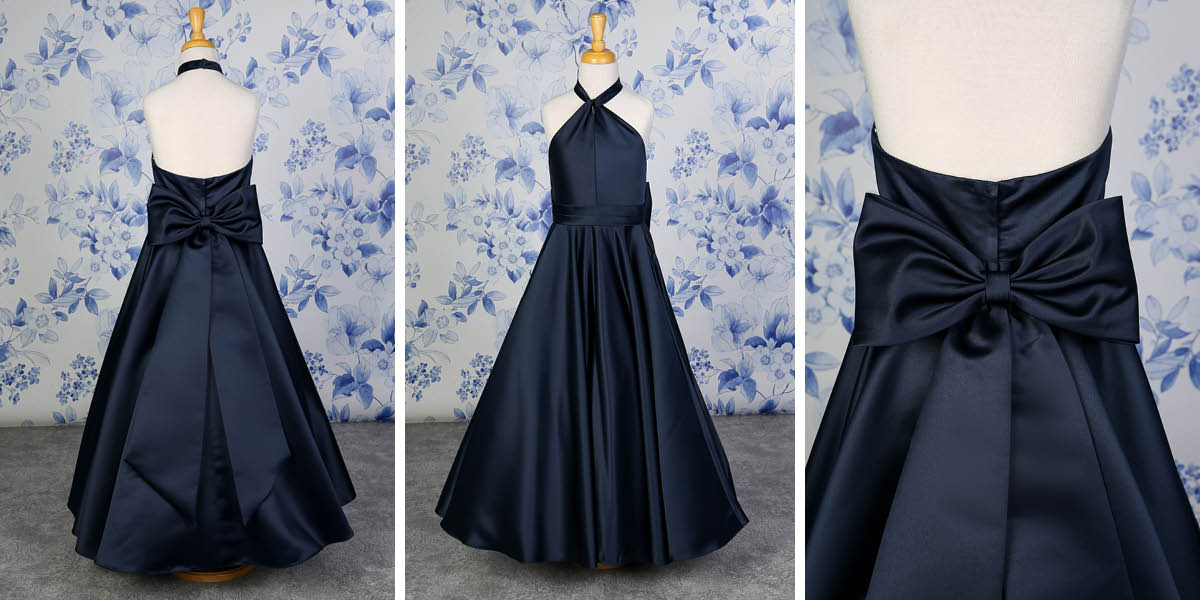 Capri Flower Girl Dress, RDF1137 – This style is the perfect match for Capri bridal gown and  Fit & Flare Satin Halter Neck Dress with the twist front halterneck detail. The cut-out back and fit and flare features of the adult designs are replaced with an oversized bow and an A-line skirt shape for easy movement and comfort.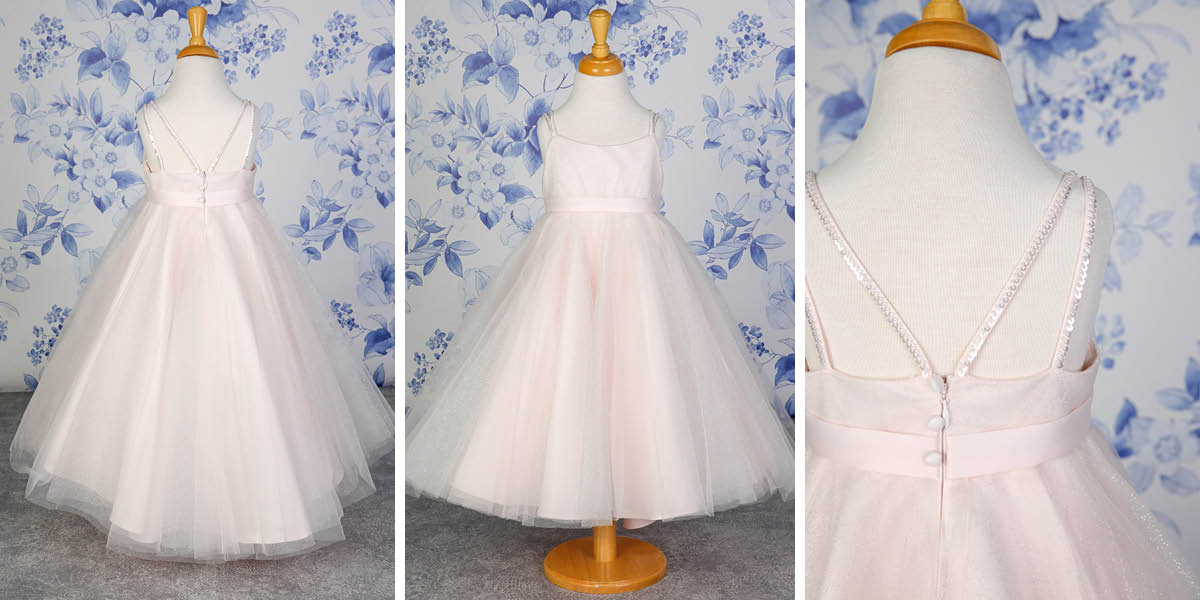 Zahira Princess Flower Girl Dress, RDF1133 – You almost don't need an occasion for this sparkly style. A gorgeous, flowing, layered skirt is full of movement and energy- finished with a layer of glitter tulle to make your little one feel extra special. The double sequin straps match the Zahira bridal gown and make this style fit for a princess.
Ivory Dresses
Our Ivory flower girl dresses also make a great first Holy Communion dress as they are modest, simple and comfortable to ensure your little ones feel confident on the day.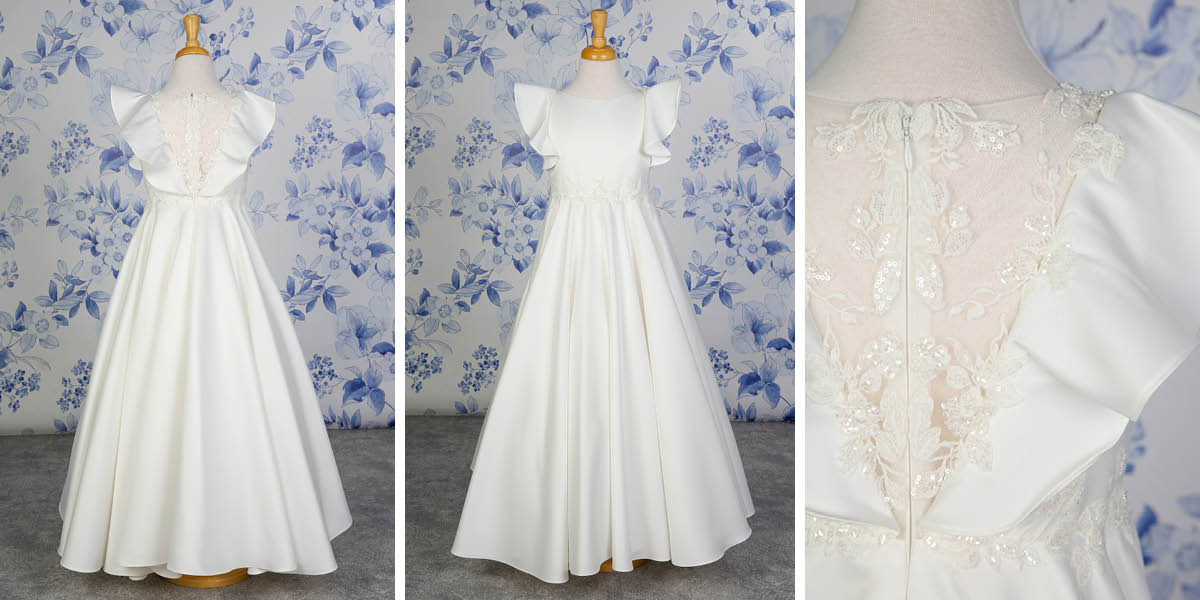 Low Back Satin Ruffle Dress, RDF1135 – This lovely A-line dress has a beautiful lace panel on the back, complete with sequin lace embellishments to add a subtle sparkle. The gorgeous ruffle sleeve adds shape and structure to the simple style.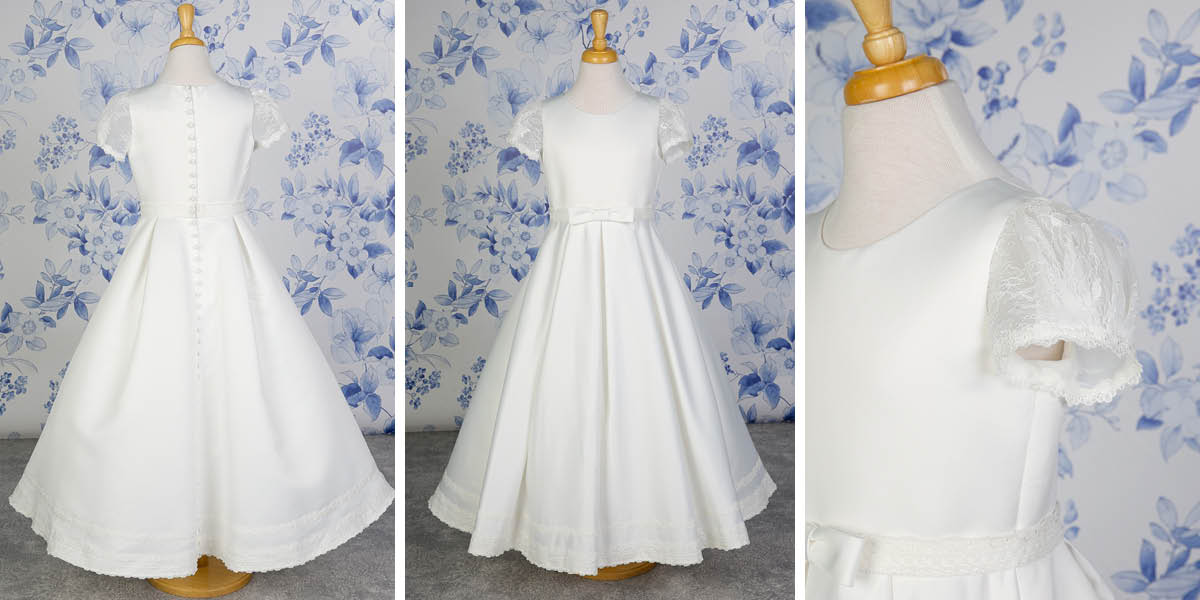 Lace Sleeve Matte Satin Dress, RDF1136 – This beautiful, traditional style features lace cap sleeves with a matching lace trim around the hem. A simple lace waistband with a central bow ties the look together. Satin-covered buttons run down the back of the dress, adding a sleek finish.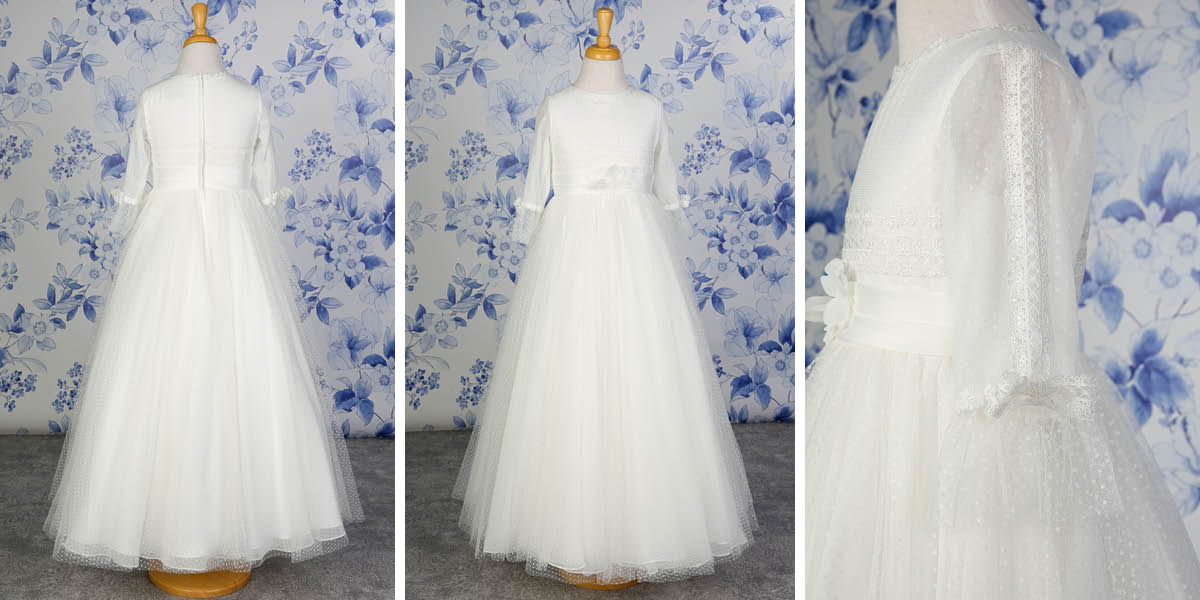 Dotty Tulle & Lace Dress RDF1140 – Featuring a half sleeve finished with a flounce and a bow, this lovely dotty tulle dress is the perfect flower girl dress or Holy Communion dress due to its simple, modest style. Chiffon flowers adorn the waistband, adding detail to this beautiful dress.
How Our Sizing Works
It can sometimes be tricky to get the right size for your little ones as they can very easily grow out of their dress between the time you order the dress and the big day itself. It may be useful to try and hold off on ordering until a little closer to the time to avoid any last-minute changes. We measure our flower girl dresses by size rather than age to ensure you can get the most accurate fit. Please note these sizes are measured in inches.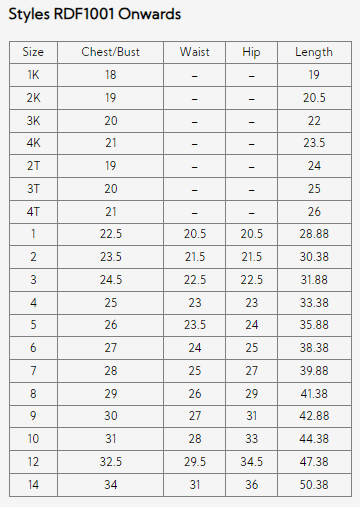 Where to Shop Richard Designs Flower Girl Dresses
Do you want to shop the brand-new Richard Designs Spring 2024 collection? It's simple, click here. 
Richard Designs is a bridal wholesaler, open to trade only. Where to buy? 
Are you a shop owner and want to sell Richard Designs?