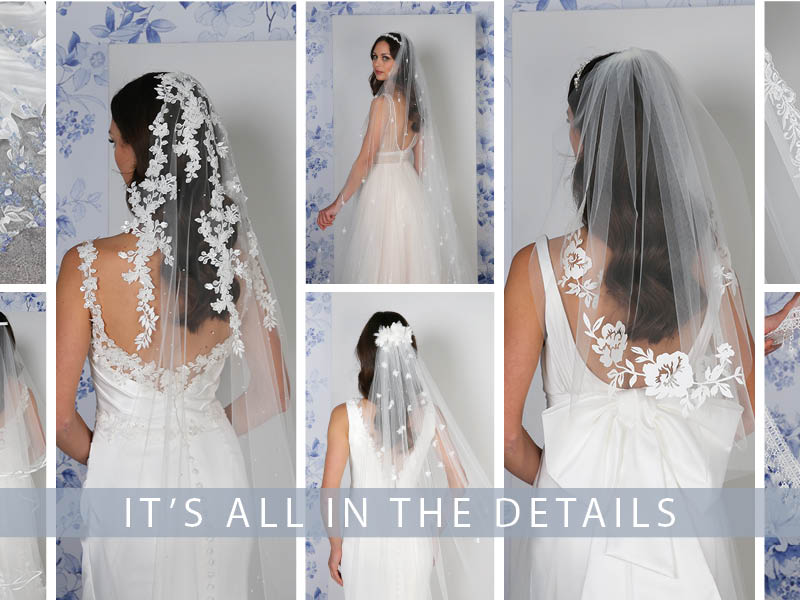 Veils for Every Bride
Our veil collection at Richard Designs has it all: traditional lace veils, bow veils, long dramatic trains and sleek cut-edge styles. Designed with our new bridal collection in mind, our styles go together perfectly to create a coordinated, bespoke look. Veils no longer have to look dated or boring: our brides are opting for fresh, new statement styles and delicate lace designs.
Veils are the perfect bridal accessory, allowing you to express your personal style and take your look from day to night without having to change your dress: you could start with a swooping cathedral-length veil for the ceremony and switch to a short bow style for the reception. Choosing your dream veil can seem quite daunting at first, so to help you make your choice, we have grouped our veils into categories to allow you to see which styles you prefer. Once you're ready to try them on, find your local stockist and get ready to tick one thing off your seemingly endless wedding planning list!
Each veil is handcrafted by our team of skilled artisans, made-to-order especially for you which, in turn, is kinder to the planet- only using what we need to make your dream veil. Our veils are available in any length and colour. See below for the different lengths of veil: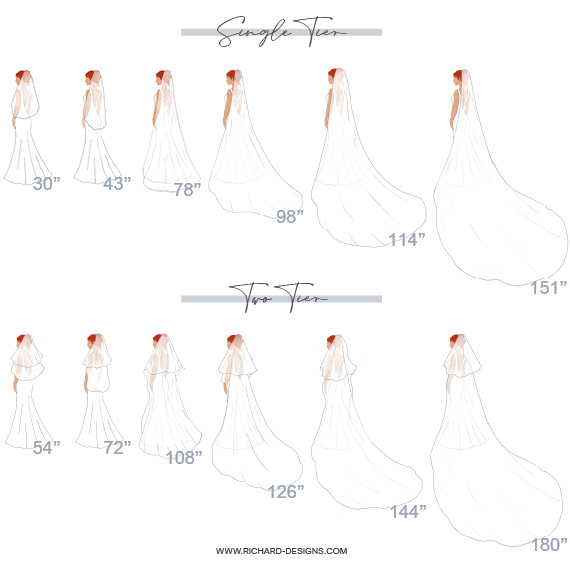 Simple Styles
Our simple veil styles range from crisp cut edges to light-catching pearl scatters to elevate your look without distracting from your dress.  The beautiful Pearl Comb Veil features a scatter of light-catching pearls throughout the length of the veil. The Livia Veil creates the most gorgeous shape due to its flat comb fastening; the satin edge highlights the sense of movement created by the waterfall shape. Our Satin Headband Veil, an alternative to comb fastening, is comfortable and easy to wear for long periods of time. The lightweight signature tulle has been carefully crafted to drape flawlessly and splits at the side to allow the arms to move freely. Our simple veils work perfectly with a more detailed gown as they add a floaty overlayer without complicating the overall look.
Lace Veils
Delicate, detailed lace veils are always in style. With our different lace patterns, from 3D chiffon petals to intricately beaded flowers, our lace veils add a traditional element to your dress and lovely detail to minimalist styles. If the back of your dress is more detailed, opt for lace detail near the comb, such as Chiffon Lace Draped Veil, this draws the eye to the back of the dress without covering up the detail of the dress. If you want a long, flowing train, lace edge veils like Bridie Veil and Venus Veil are great as they weigh down the bottom of the veil, allowing it to trail beautifully behind you, as though you were walking through a field of sparkling flowers.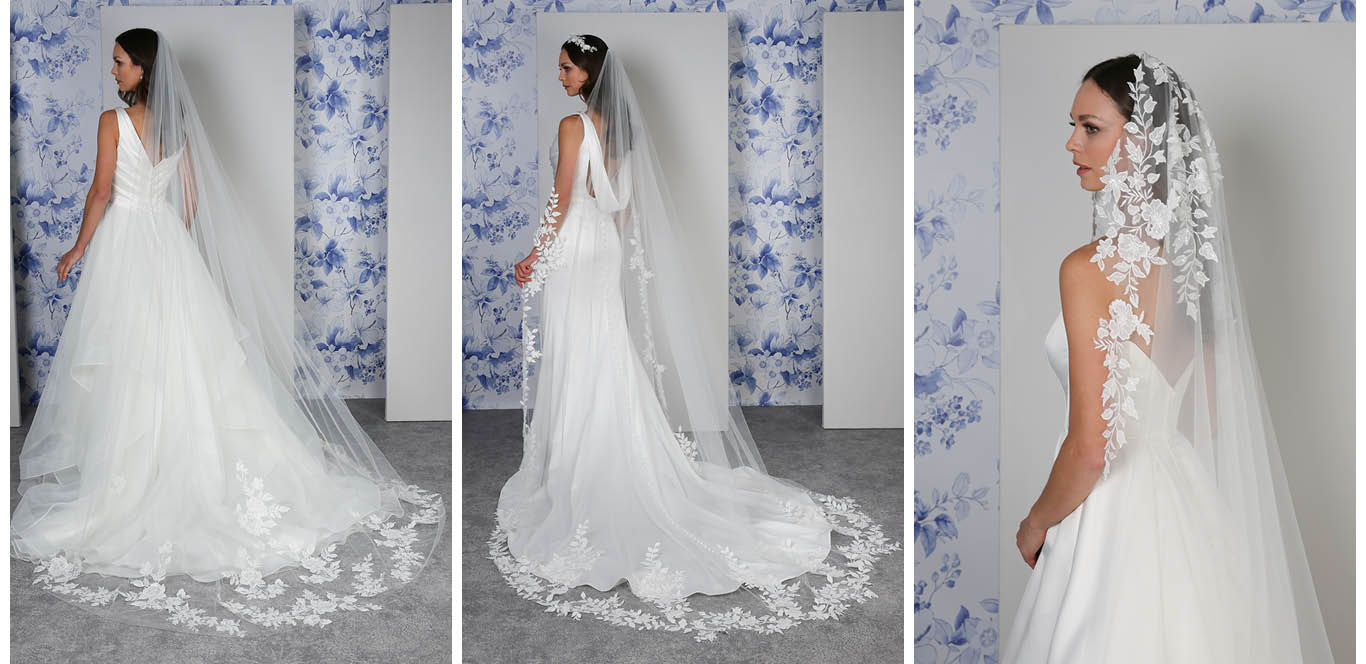 Statement Veils
Our statement veils were made to stand out from the crowd. Using a range of interesting textures and shapes, these veils have a modern, fresh feel which works so well with the traditional element of a veil. Our Rafael Veil is formed of two tiers of soft tulle ruffles- matching the floaty tulle layers of its counterpart Rafael Dress. The Blue Belle Veil features tonal hydrangea lace growing upwards from the train, adding gorgeous blue tones to match those around the waistband of the Blue Belle Dress. The playful 3D chiffon petals of the Jada Veil bloom at the comb with textural fabric and pearl flowers cascading down the length of the veil, matching the simple jersey Jada Dress with its chiffon petals lining the bodice.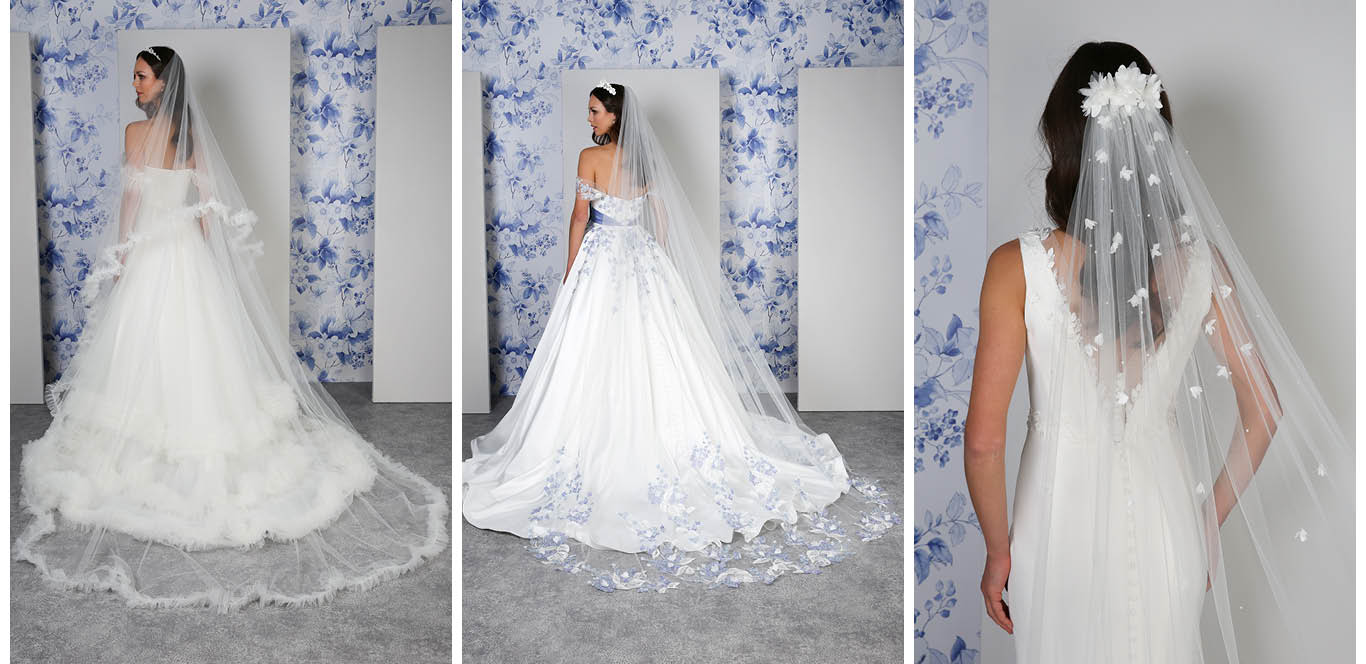 Feather Veils
Popular with boho brides, feather veils add a softness to your look. Fluttering as you move, our feather veils are paired with luxe pearls. We have used components such as guipure lace feathers on our Penny Veil, petal-shaped feathers of Capri Veil and the floating faux ostrich feathers of the Hope Veil, to create the softest, most delicate styles.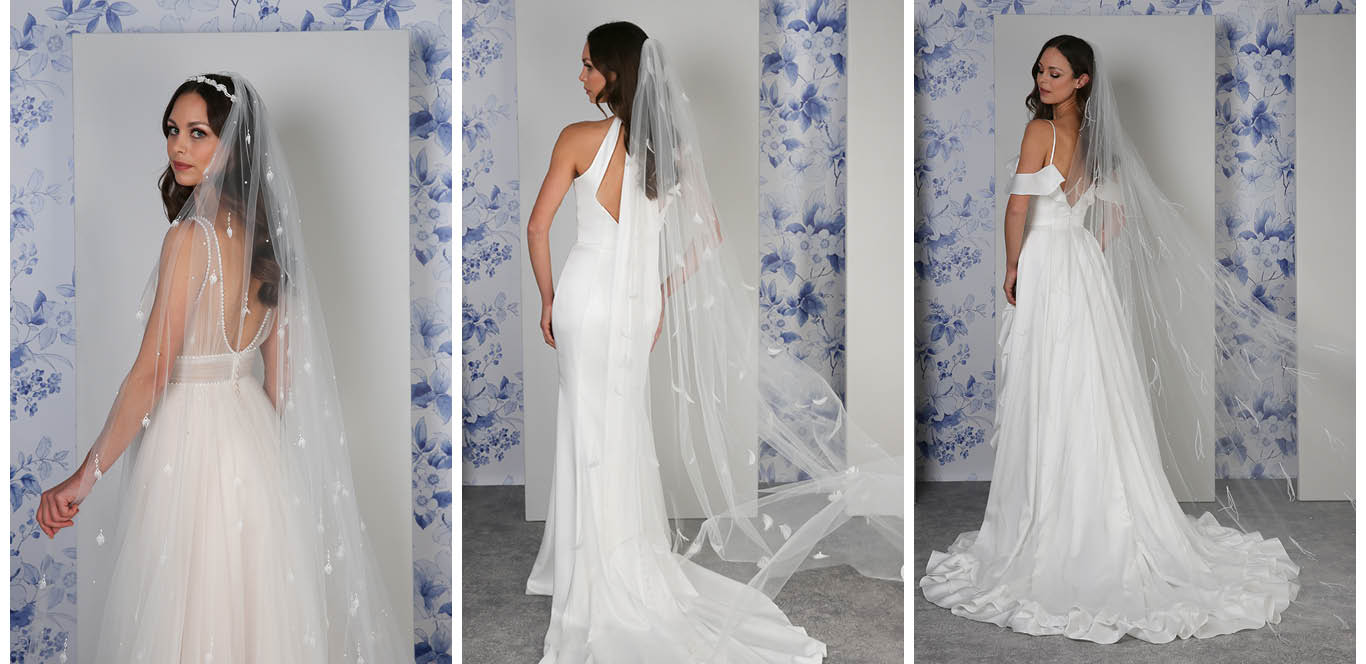 Bows
Lastly, if a full, draping veil is not your thing, check out our selection of bows, delicate and feminine accessories to a little floaty finish to any style of dress. Hydrangea Lace Bow Veil adds a lovely pop of colour. The pleated tulle of the Xara Bow Veil adds a simple textured look to a slim veil, a delicate feature to the back of your dress. This Sequin Floral Lace Satin Bow is formed of self-lined satin for a luxurious texture and the lace is peppered with sequins to catch the light. Why not look at our selection of headpieces, perfect for adding a finishing touch or changing up your look during the day?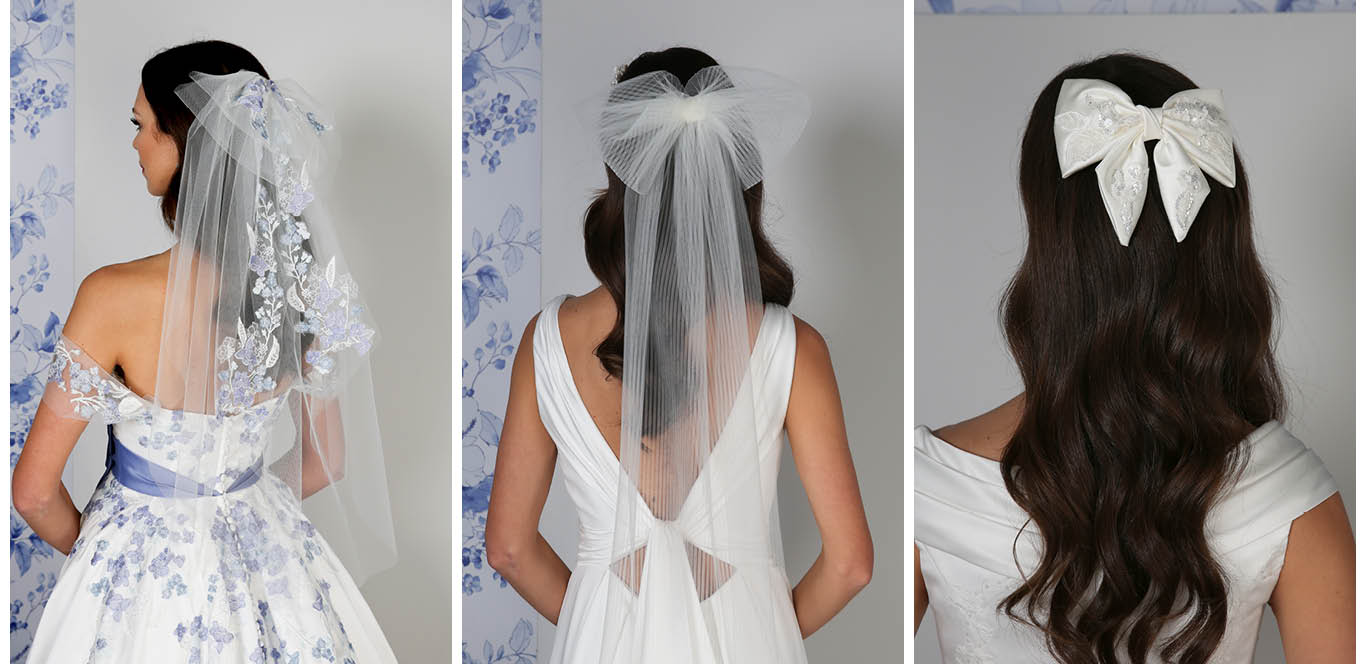 Are you a shop owner and are interested in our products? Find out how to become a stockist.
Stay up to date with our latest collections: browse our website >>