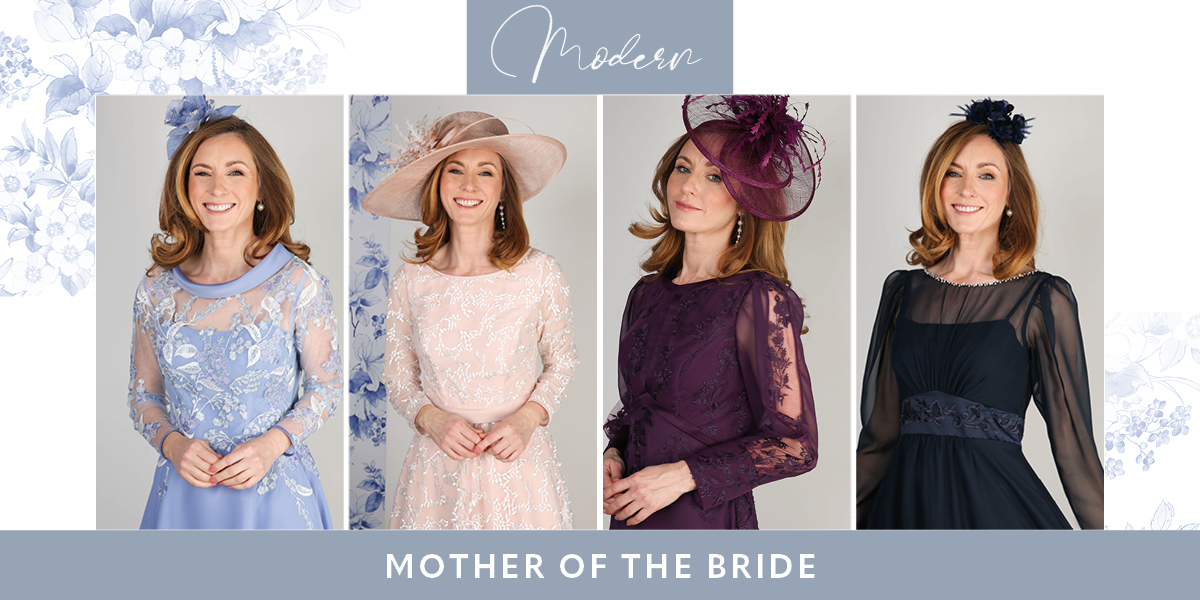 The Modern Mother of the Bride
Being the mother of the bride or groom is arguably one of the most precious days of your life, full of special moments you will cherish for years to come. Here at Richard Designs, we are determined to dispel the old myth that mother of the bride styles are frumpy, unflattering, and boring. You deserve to look your best on the big day, not just for the sake of the photos, but so that you exude an air of confidence and happiness throughout the day.
Usually, if you are a VIP wedding guest such as the mother of the bride or groom, you will have a say in what colour you can wear. Richard Designs have a range of more than 50 different shades, so you'll have no trouble finding a colour that compliments your features. If you are unsure of your colour season, many useful resources online can help you find the palette that harmonizes with the colours in your skin, hair and eyes.
The next step is finding a style that matches your personality. Will you feel at home in an intricately embroidered floral design? Do you prefer minimalist styles with little to no embellishments? Or are you all about the sparkle? At Richard Designs, there is a style to fit every size, shape, and personal taste.
Whatever you choose, you deserve to find a style that makes you feel elegant, sophisticated and as far from frumpy as you can get. See below for some of our favourite occasion-wear dresses.
Mother of the Bride Dresses with Embroidery Detail
Blue Skies RDAD1192, Eternity RDAD1194, Stellar RDAD1187
Whether you like subtle details, a splash of colour or an all-over embroidered overlayer, these designs are timeless, elegant and classic, leaving you feeling your best on the big day. Choose from self-coloured embroidery, ivory detailing, or embroidery in a contrasting colour to give you the effect of a printed fabric with an extra luxurious touch.
Soft Chiffon Occasion Wear Dresses
Constance RDAD1188, Francesca RDAD1173, Diana RDAD1172
Chiffon dresses are a staple for the mother of the bride as they are perfect for adding a floaty overlayer to increase coverage whilst keeping you cool. The soft delicate quality of the chiffon fabric is super feminine and elegant, working to gently skim over the figure.
Sparkly Occasion Wear Dresses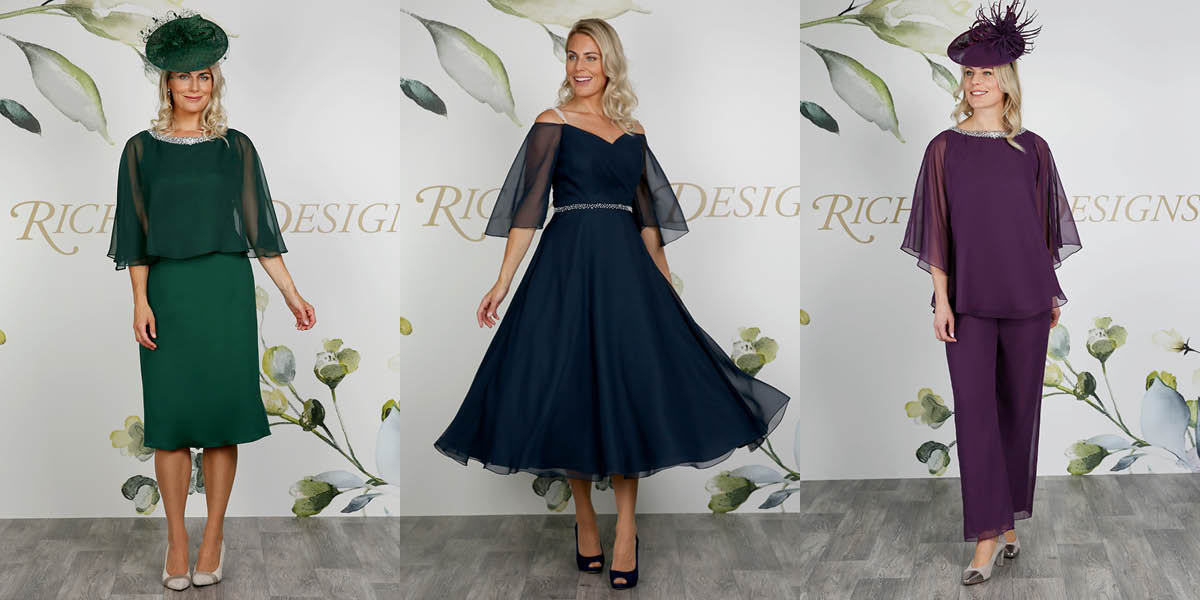 Bliss RDAD1126, Ellowyn RDAD6020, Ashford Top RDAT1144 & Ashford Trouser RDAP1144
There's just something about a little touch of sparkle that makes everyone happier, right? These styles feature subtle sparkle which is cleverly placed around the neckline to brighten up the face and around the waist to cinch you in.
Occasion Wear Jackets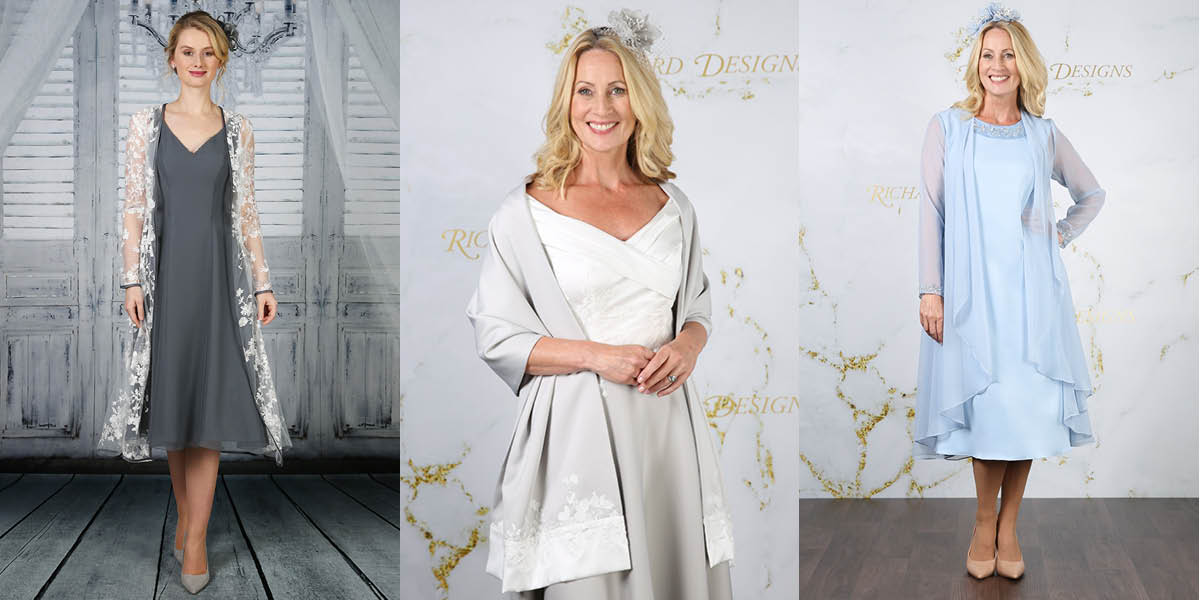 Ashcroft Jacket RDAJ1032, Maria Wrap RDAJ1168, Moira jacket RDAJ1169
From jackets, to wraps, to shrugs, it's always nice to have a little something to pop on in the evening if it gets a bit chilly or just to switch up your look between the ceremony and the reception. Their gorgeous designs are non-frumpy and allow you to add that extra bit of lace, sparkle or texture to your look. Our jackets are designed to mix and match, so you can easily find the perfect jacket to go with your dress.
Fascinators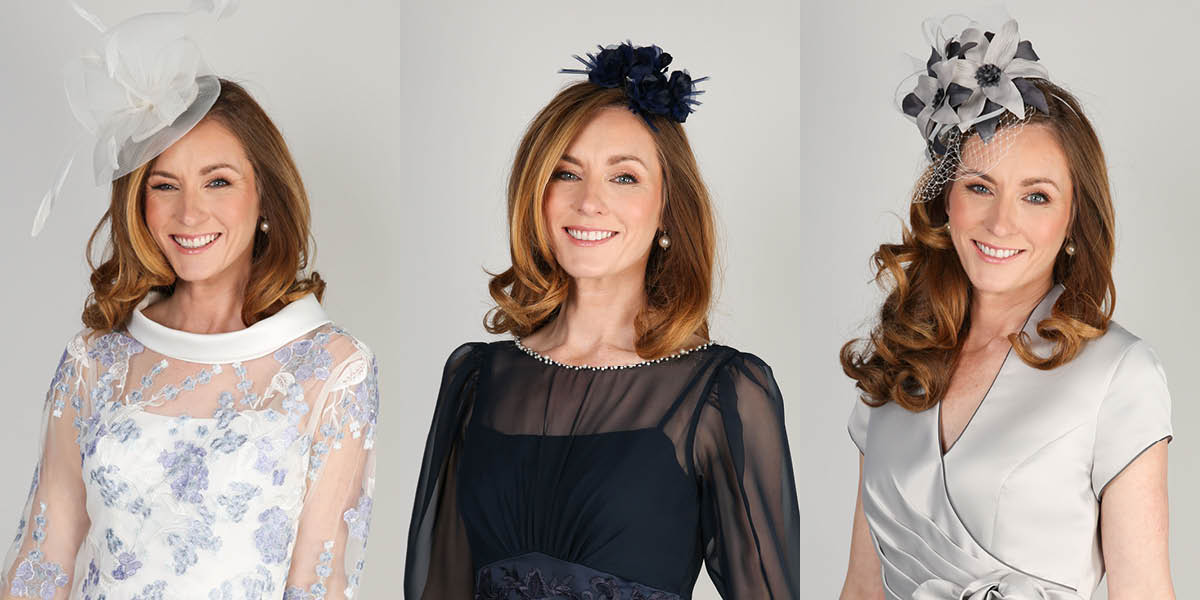 Horsehair Rose and Feather Fascinator MBF1197, Tulle and Satin MBF1196, Satin and Horsehair Fascinator MBF1191
Complete your look with one of our fabulous fascinators. From sculptural ivory headpieces to more minimalist styles, fascinators are the perfect addition to any mother of the bride look.
Why Richard Designs Occasion Wear is Special
Comfort and fit are at the forefront of our Richard Designs occasion wear collection. Our generous size chart caters for sizes UK4 – 32, with each dress cut especially for the more mature figure, to ensure comfort all day long. We design each piece to feel cool and comfortable, giving you just the right amount of coverage where you feel you need it most, and accentuating the features you are most proud of. We are so honoured to be able to design beautiful dresses for beautiful women across the world, and to give them confidence at the most special events of their lives.
Browse our different styles to find the perfect style for you:
SHOP MOTHER OF THE BRIDE DRESSES
Richard Designs is a bridal wholesaler, open to the trade only. Where to buy?
Are you a shop owner and want to sell Richard Designs?